Book your heat pump installation now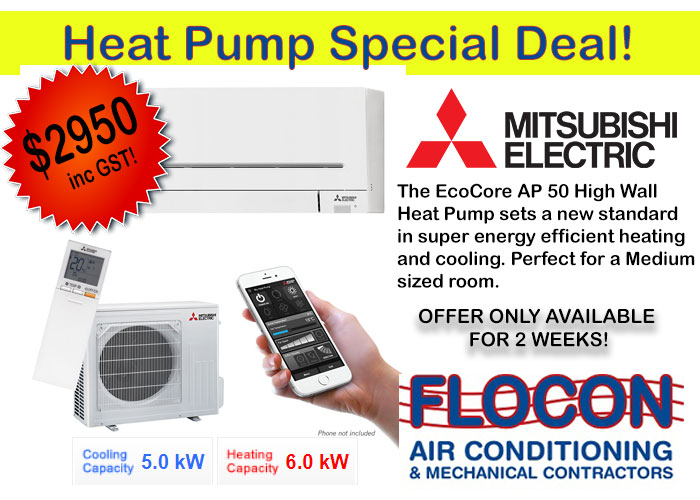 Winter is definitely here and the weather is unpredictable, but we know it's cold.
Is your home warm and cosy to come home to after a miserable day?
Right now, we have plenty of stock available to service our clients and we don't want you to miss out on this special deal.
Priority book your heat pump installation now!
Our Special heat pump installation deal starts today for two weeks only, or unit stocks last.
We are offering the Mitsubishi Electric EcoCore AP Series AP50 with built in WiFi control, back to back install with power looped from a local power point for only $2,950.00 (includes gst). 
Mitsubishi Electric EcoCore AP50 sets new standards
Starting from barely a whisper, the EcoCore AP Series ensures you only feel the warmth, not hear it! And, with the addition of Night Mode it means the outdoor operating noise level drops by a further 3dBA – for the perfect night's sleep.
The EcoCore AP50 sets new standards in super energy-efficient heating and cooling. Dual Barrier Coating prevents dust and dirt build-up on the inner surface which means, the EcoCore AP50 stays clean year-round; maximising efficiency and home comfort.
As most Kiwis now know, heat pumps are one of the most cost-effective ways to keep your home both warm and cool, while saving on energy bills.
Heat pumps are not just for heating but have the dual features to be air conditioners too – simplifying your homes needs in one easy system. All our products from Mitsubishi Electric feature advanced technologies and there will be one that's right for you and your home. If you have any questions feel free to get in touch with us we're happy to help.
Mitsubishi Electric "whisper quiet" technology
We install a range of Mitsubishi Electric heat pumps with proven "Whisper Quiet" technology. With so many different products and systems to choose from, there is something suitable for every home or commercial space. With quality in mind, Mitsubishi Electric products have advanced technologies including top of the line air filtration systems as well as WiFi control to make life just that little bit more convenient.
At Flocon, we share more than 96 years of experience, which gives us the right to say… we know a lot about heat pumps. This is reflected in the high level of knowledge, skill, and commitment we bring to every sale and heat pump installation.
I have just had the unit installed and wanted to say thank you, Ryan and Alvie were fantastic.  This is the 3rd unit I have had installed by 3 different companies in the past year.  Flocon were by far the best team. Knowledgeable, polite and courteous, answering questions and explaining what they were doing. Ryan even explained how to clean the filters; something the other companies didn't even mention. They arrived early and cleaned up after themselves beautifully. Just thought you would like some positive feedback. Cathy Grant – June 2020

Thanks for the great job that was done. All the people that worked on the installation were a credit to your company. Without exception, they were professional, courteous, pleasant and considerate. I would unreservedly recommend Flocon to others (and will be!). We're loving having the heat pump in – especially being able to turn it on before we get home. Sincere thanks once again. Rose – August 2019
There's no better time than now to book a heat pump installation and maintain a comfortable home no matter the temperature outside!
Please fill in the form on the right if you would like to be added to a priority list for your heat pump installation or call us on 09 281 2267
Please feel free to use our heat pump calculator here.
Or take a look at our range here.
We look forward to hearing from you soon.