This month's Heat Pump Special Deal is the Mitsubishi Electric R32 GL25 Eco Core.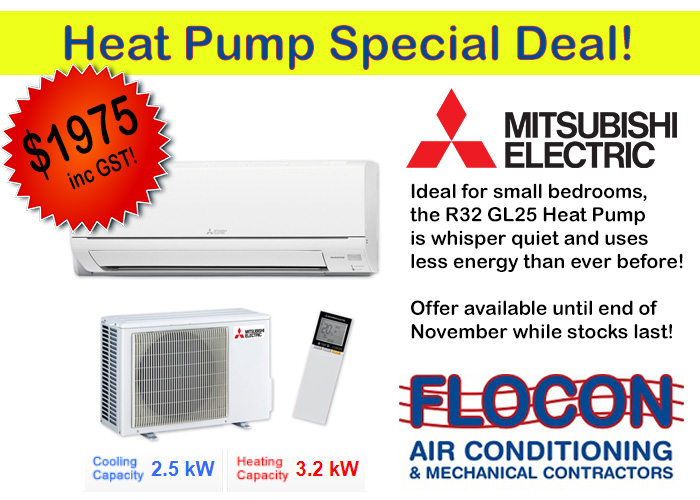 Ideal for small bedrooms, this High Wall Heat Pump features next generation, high-efficiency compressor technology, specifically designed to use less power than ever before.
New Zealand's Quietest Ever Heat Pump!
Mitsubishi Electric's GL25 starts at a barely audible 19dBA, making it New Zealand's quietest heat pump ever. The hushed system is perfect for bedrooms, allowing you to feel the heat – not hear it.
Save Money On Energy Bills
The GL Series uses less power than ever before, by combining the latest technology with unique energy-saving features. Mitsubishi's patented i-save and Econo Cool Modes are included on all GL models, allowing you to save temperature and fan speed combinations. Add to that the astonishingly low 1W standby power and the  7-day advanced timer, and you have one of the most energy efficient heat pumps ever built!
Control Your Temperature From Anywhere
The GL25 is Wi-Fi compatible, meaning you can control the unit using your smart phone or tablet – from anywhere in the world! Imagine turning your heat pump on when you're 20 minutes from home, allowing you to return to a warm, toasty house. Or during those hot summer months, cooling the place down from the office if you're worried it's too hot for your pets.
Grab Your Heat Pump Special Deal Today!
The Mitsubishi Electric R32 GL25 Eco Core wall mounted unit is available now at a special price of $1975.00 including GST, based on a back to back install. This special deal is only on until the end of November, so get yours quick while stocks last!
Contact us today if you have any questions about this unit or this special deal. Our friendly and expert staff will be happy to help. Terms and Conditions apply.