This month's Heat Pump Special Deal is the Mitsubishi Electric EcoCore AP 50 High Wall Heat Pump!
Ideal for moderately sized rooms, this wall mounted Heat Pump sets a new standard in super energy efficient heating and cooling.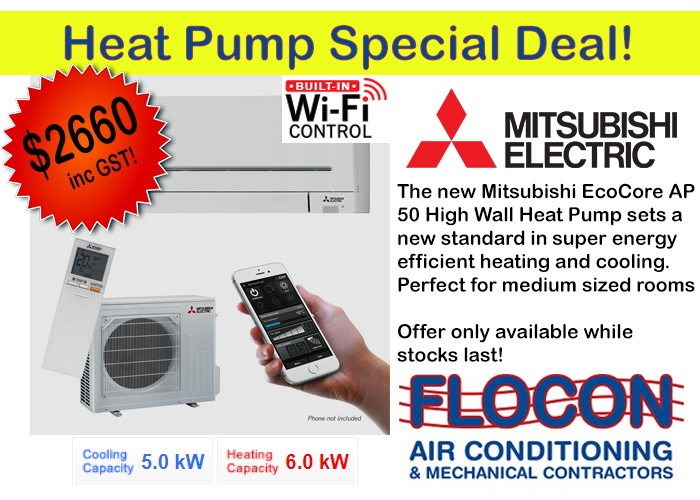 Whisper quiet
Starting from barely a whisper, the EcoCore AP Series ensures you only feel the warmth, not hear it! Furthermore, the addition of Night Mode means the outdoor operating noise level drops by a further 3dBA – for the perfect night's sleep.
Dual Barrier Coating
The patented and world's first Dual Barrier Coating from Mitsubishi Electric prevents dust and dirt from accumulating on the inner surface of the indoor unit; keeping your heat pump clean year-round. Keeping key internal components like the heat exchanger, fan and internal duct clean is important for both home comfort and efficiency. Not only does dust and dirt build-up typically create unpleasant odours, it also forces a heat pump to work harder, which can result in significantly impaired energy efficiency. Dual Barrier Coating prevents dust and oil build-up on the interior of the heat pump for the ultimate in peace of mind, ease and comfort.
Next Generation R32 EcoCore Technology
R32 is a refrigerant with just one-third the global warming potential of R410A and has zero ozone depletion potential. R32 offers increased energy efficiency, and is said to be the next generation of refrigerants.
Washable Air Purifying Filter
The EcoCore AP Series is equipped with an Air Purifying Filter. This washable filter traps particles such as dust, pollen and other airborne contaminants, generating stable antibacterial and deodorising effects. The size of the three-dimensional surface has been increased from previous models, enlarging the filter capture area. These features give the Air Purifying Filter better dust collection performance than conventional filters.
Control Your Temperature From Anywhere
The EcoCore AP 50 has Mitsubishi's award-winning WiFi control built in, and so can be controlled using a smartphone or tablet – from anywhere in the world! Imagine turning your heat pump on when you're 20 minutes from home, allowing you to return to a warm, toasty house. Or during those hot summer months, cooling the place down from the office if you're worried it's too hot for your pets.
Grab Your Heat Pump Special Deal Today!
The Mitsubishi Electric EcoCore AP 50 wall mounted heat pump unit is available now at a special price of $2660.00 including GST, based on a back to back install with power supply looped from a local power point. This special deal is only on while stocks last so get yours today!
Contact us today if you have any questions about this unit or this special deal. Our friendly and expert staff will be happy to help. Terms and Conditions apply.