This month's Heat Pump Special Deal is the Mitsubishi Electric FH50VE Deluxe wall mounted heat pump!
Ideal for moderately sized rooms, this wall mounted Heat Pump sets a new standard in high performance, energy efficient comfort.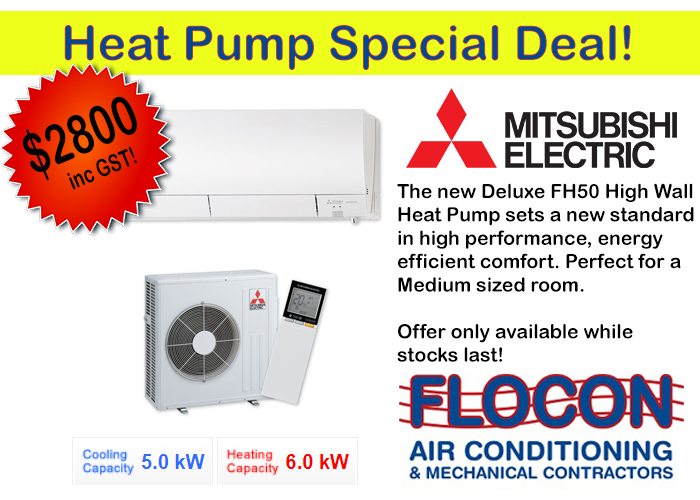 3D i-See Sensor
The Mitsubishi Electric FH50VE Deluxe boasts a unique 3D i-See Sensor, which continuously examines the temperature of the room, detecting exactly where people are sitting by sensing their body heat signatures. With this thermal data, it then directs the perfect amount of heating or cooling towards those who need it most.
Dual Split Vane Technology
Incorporating a split vane design, the FH Deluxe Series allows airflow to be tailored to suit different parts of a room, by directing air up, down or to the side. This innovative airflow technology is ideal for multi-level hallways in homes.
Occupancy/Absence Detection
With the latest in technological innovation, including a built-in intuitive occupancy sensor, the FH50VE Deluxes model can see when you leave the room, automatically switching into an energy-saving mode, saving you even more on your electricity bills.
Control Your Temperature From Anywhere
With the addition of Mitsubishi Electric's award-winning Wi-Fi Control, the FH50VE Deluxe can be controlled using a smartphone or tablet – from anywhere in the world! Imagine turning your heat pump on when you're 20 minutes from home, allowing you to return to a warm, toasty house. Or during those hot summer months, cooling the place down from the office if you're worried it's too hot for your pets.
Grab Your Heat Pump Special Deal Today!
The Mitsubishi Electric FH50VE Deluxe wall mounted heat pump unit is available now at a special price of $2800.00 including GST, based on a back to back install with power supply looped from a local power point. This special deal is only on while stocks last so get yours today!
Contact us today if you have any questions about this unit or this special deal. Our friendly and expert staff will be happy to help. Terms and Conditions apply.