The Mitsubishi Electric RapidHeat Floor Console series have been named New Zealand's quietest Floor Console with noise starting at just 19dBA. The larger fan scroll allows these Floor Consoles to be whisper-quiet while also increasing energy efficiency.
The design of the Mitsubishi Electric Floor Console has been modernised to reduce its size and sit discretely against the wall. The new contemporary design can also be settled into your wall to reduce the depth by a further 33%. With the option to remove the base, this floor-level heat pump is ideal to fill cavities left behind by fireplaces and night-store heaters in renovated homes.
With its Multi Vane Flow function, the Floor Console series can minimise the effect of draughts at floor level. Blowing warm air both upwards and downwards through three uniquely shaped vanes, the heat is distributed quickly and evenly.
Boasting Mitsubishi Electric's unparalleled features, RapidHeat Floor Console heat pumps come with the Anti-Enzyme Filter, infrared controller, Econo Cool and Nano Platinum Filter. You also have the option to include your Floor Console in a Multi Room Connection.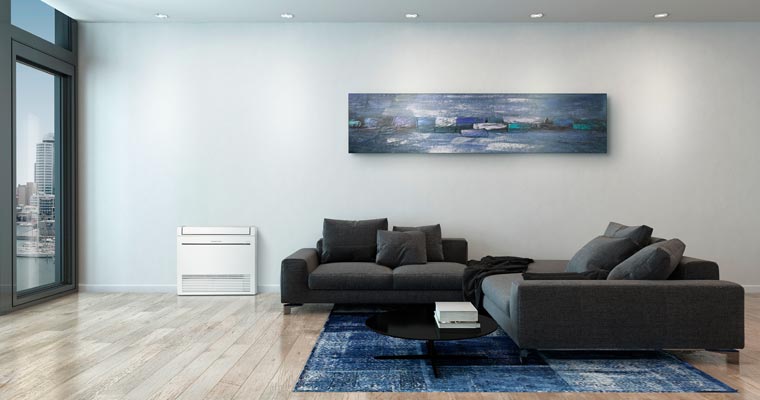 Floor Consoles offer RapidHeat technology that delivers warmth twice as fast
These are the only floor consoles in New Zealand to offer RapidHeat patented technology. Heating the room twice as fast as standard floor consoles, RapidHeat uses advanced sensor technology to heat in a short time while still maintaining optimum energy efficiency.
The RapidHeat series combines advanced sensors with Intuitive Control Logic to ensure optimum temperatures are reached as quickly as possible, even from very low temperatures. Compared with earlier models, heat is delivered twice as fast. RapidHeat is automatically activated when the Floor Console starts running in low temperature conditions under the Two-Way Airflow feature. Warm air is then blown downward before returning back to the indoor unit where it is reheated for a second time.
RapidHeat technology is an industry first and exclusive to Mitsubishi Electric Floor Console models.
Excellent service! Carl and his team did a great job from quote to the finished installation. We are very happy and highly recommend Flocon! Thanks guys! –Peter Evans – June 2018
Mitsubishi Electric Wi-Fi Control Upgrade
With the addition of award winning Mitsubishi Electric Wi-Fi Control, you can control and monitor your heat pump from absolutely anywhere via your smartphone, tablet or online account. You can pre-heat or cool a room no matter where you are – on the way home, running late, coming home early, or even when you're in a different country. With Wi-Fi Control you'll always arrive home to total comfort regardless of what New Zealand's unpredictable weather is doing outside!
Call us now and have a chat to see how we can assist with your heating and cooling solutions.