The OmniCore Multi Room Heat Pump system allows you to choose as many indoor units as you like and connect them all to a single outdoor unit. As choosing a heat pump is not a one-size-fits-all exercise, installing Multi Room Heat Pumps means you can choose the right unit for each room.
Homes consist of rooms of all shapes and sizes which is why Mitsubishi Electric heat pumps come in a variety of different capacities. With the option to install the Multi Room system, we no longer have to pick the single space that most deserves a heat pump. Installing an OmniCore Multi Room Heat Pump system also means you don't have to interfere with your home's outdoor aesthetics.
Every room, regardless of size, can benefit from the comfort a heat pump brings. At any point, you are able to add more indoor units and still connect to the same outdoor unit. Call us to find out more.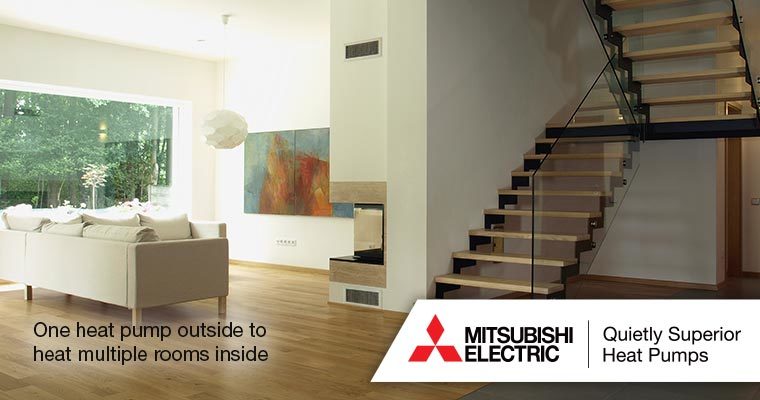 Individual units, individual control
Mitsubishi Electric Multi Room Heat Pumps are all individually installed which means they can also be individually controlled. With personalisation being a sought-after feature in many aspects of our lives, Mitsubishi Electric have designed the Multi Room Heat Pumps to each be managed by their own infrared controller.
Multi-Room Heat Pump systems can also be programmed individually for up to four settings over 24 hours for up to seven days. This eliminates the need to keep resetting the heat pump every day. With several heat pumps in the house, there'll be no need to fight over the temperature.
Which Mitsubishi Electric heat pump can I use with the OmniCore Multi Room Heat Pump systems
Most Mitsubishi Electric indoor heat pump units can be installed in your home as part of the Multi-Room system. You do not need to select all your indoor units from the same range. You might like to have a mix of high wall mounted heat pumps and floor consoles. So long as the heat pump is compatible with the Multi-Room feature, you can choose what you like.
Here are the compatible indoor units in the Mitsubishi Electric range.
High Wall Mounted Heat Pumps
AP Series
Designer EF Series
Black Diamond LN Series
Floor Consoles – Rapid Heat Series 
Ceiling Cassette 
MLZ Series
SLZ Series
PLA Series
Ceiling Suspended PCA Series 
Total Home SEZ Series – ceiling concealed
Total Home SEZ Series – ceiling concealed
Total Home PEAD Series – ceiling concealed, ducted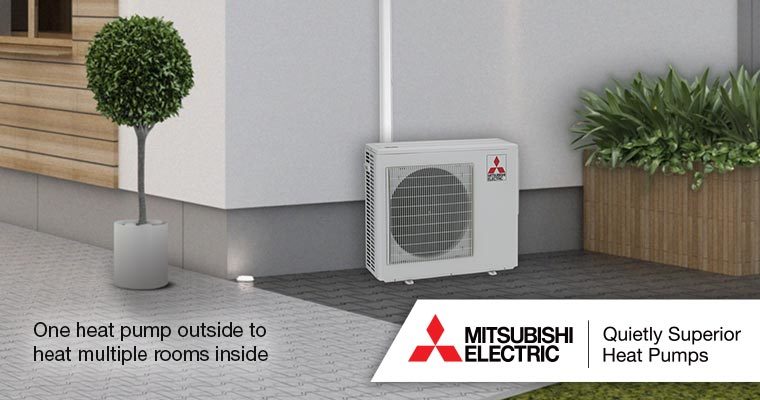 Mitsubishi Electric Wi-Fi Control Upgrade
With the addition of award winning Mitsubishi Electric Wi-Fi Control, you can control and monitor your heat pump from absolutely anywhere via your smartphone, tablet or online account. You can pre-heat or cool a room no matter where you are – on the way home, running late, coming home early, or even when you're in a different country. With Wi-Fi Control you'll always arrive home to total comfort regardless of what New Zealand's unpredictable weather is doing outside!
Call us now and have a chat to see how we can assist with your heating and cooling solutions.