The Flocon team have over a century of combined experience in the industry – that's a whole lot of years – so we feel qualified to say we know practically everything there is to know about heat pumps.
As our business and skills cover all aspects of the industry, we've split our services into 4 main heat pump services:
Selling heat pumps
Installing heat pumps
Maintaining heat pumps
Commercial heat pumps.
This post will take you through each one in turn.
Heat Pumps
Our experience has led us to deal with the best quality and technology available in heat pumps today and we believe that is Mitsubishi Electric.
We sell a full range of Mitsubishi Electric heat pumps and air conditioning units for both home and commercial use.
Why Mitsubishi Electric? Because we know they are the best in New Zealand, if not the world, for efficiency, customisation, and overall excellence.
Their EcoCore technology is not only incredibly energy-efficient but also super quiet. Add to that the WiFi built into most models, and you've got the best heat pump in Aotearoa.
Heat Pump Installation
Heat pumps are not like TVs – you can't just buy one and bring it home in the boot of the car.
They have to be installed by a professional, someone who knows what they're doing, can do it safely, and do it with the minimum of fuss.
Professional heat pump installation will help to determine the correct location for your new system. Just because there's a space on the wall doesn't mean a heat pump should go there.
A professional will be able to tell you where your new appliance should go in order to get the best out of it.
When it comes to installations, we pride ourselves on getting it right first time. We're in and out before you know it, cleaning up after ourselves, and giving you the best customer support in the business.
I'm super impressed with Carl and his team. We've had a nightmare trying to keep our daughters room cool. Every other quote we had said it would be 3 weeks before we can get our heat pump installed. Due to Carl prioritizing seniors and infants we only had to wait 4 days. The install is extremely well done. It's tidy and the unit itself is top quality. The price was super competitive. To be honest it wasn't the cheapest quote we got but Carl was so awesome we decided to go with him. I am so happy with Flocon I couldn't recommend them highly enough!

Matt G – January 2021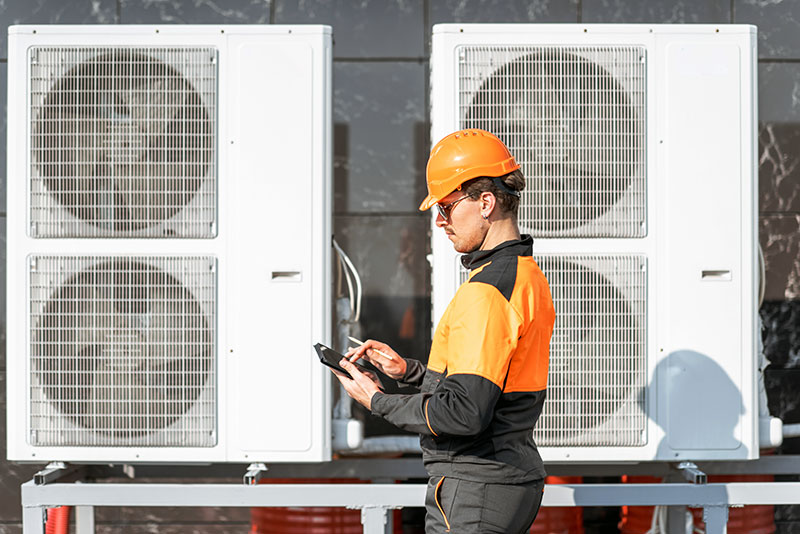 Heat Pump Maintenance
Any machine or appliance with moving parts needs to be maintained. This is especially important for heat pumps if you want to get the most out of your equipment and keep it running efficiently.
There are a few things you can check yourself, like the filters or the area around your outdoor unit, but it's important to get your heat pump checked regularly by a professional too.
Regular maintenance from a professional will keep your heat pump going for years longer than it would if just left to gather dust.
Having it run more efficiently after a service means it costs less to run, heats or cools your home more effectively, and helps keep allergens out.
Commercial Heat Pumps
Just like in residential homes, heat pumps offer a long list of benefits to commercial properties.
Heating a place of work is one of the biggest overheads a business can face, and any way to bring those costs down should be welcomed.
Heat pumps have been proven to bring energy bills down as well as discreetly fitting into commercial interiors.
Long gone are the days of big, clunky air conditioners, deafening workers and customers with their rattle and hum.
Mitsubishi Electric's range of commercial heat pumps come with whisper-quiet technology, something the company has worked tirelessly to achieve.
Talk to us about our heat pump services!
These four heat pump services cover all the major issues.
We sell only the best appliances in the form of Mitsubishi Electric, and then professionally install them for you.
We will come out and maintain them, giving them a once over to keep them at their most efficient and adding years to their life.
For commercial properties and residential building complexes, we provide complete heat pump solutions:  from one-off sales to complete packages.
If you would like to know more about any of our heat pump services, then please don't hesitate to contact us today and speak with one of our friendly experts.