Why are heat pumps popular, and why do most homes in New Zealand have a heat pump as their preferred heating method?
There's nothing like the feeling of returning home to a warm and dry home after a long winter's day. But we all know winter comes with higher heating bills.
Homes across New Zealand stay warm in many ways, and some heating solutions are more expensive to run than others.
But now, more than ever before, kiwi households are choosing to heat their home with a heat pump and here are some of the reasons why.
they are energy-efficient and cost-effective ways
they provide instant heating and cooling
they emit very low emissions
a heat pump significantly reduces your carbon footprint
it's the cheapest way to heat your home
Buying a heat pump is an investment, and one of the most important factors in choosing the right heat pump for you and your family is to make sure you get the best model for your requirements. With so many options on the market, it can be hard to know where to start. We have put together a list of five questions to ask yourself before deciding which heat pump to purchase. It may save you from making a purchase that is not conducive to your needs or environment.
What size is the room?
This is one of the most important factors to consider when choosing a heat pump – the size of the room or rooms you want to heat.
Every home is as individual as the owner, and choosing the right heat pump is key to ensuring optimum comfort levels for the whole family. Heat pumps are rated by their capacity (measured in kilowatts or kW), which determines the maximum area they can efficiently heat.
Choosing a heat pump that is too small for the room means it will struggle to keep the space warm, while a unit that is too big will waste energy and end up costing you more in the long run.
Where in the room will you place the heat pump?
The location of the heat pump is also very important. Heat pumps work by extracting heat from the outside air and transferring it into your home, but this process can be affected by external factors such as wind and sun exposure.
When it comes to installing a heat pump, people often forget about the important decision they'll have to make when choosing where to put their outdoor heat pump unit.
It may seem like a small detail in the installation process, but the location of your outdoor heat pump unit directly impacts your heat pump's performance. Just because your outdoor unit is out of sight doesn't mean it should be out of mind.
Aesthetics aside, your outdoor unit should be installed in an area with plenty of airflow.
While you may have hoped to disguise your outdoor heat pump unit amidst plants, it's best to keep it in an open space with little risk of blockages due to dust and debris.
We take care in selecting the right spot for an outdoor heat pump unit as we don't want our customers to find they're constantly forking out for maintenance and repairs down the track.
Choosing a sheltered location away from direct sunlight can help your heat pump work more efficiently. – ask our expert team more about this.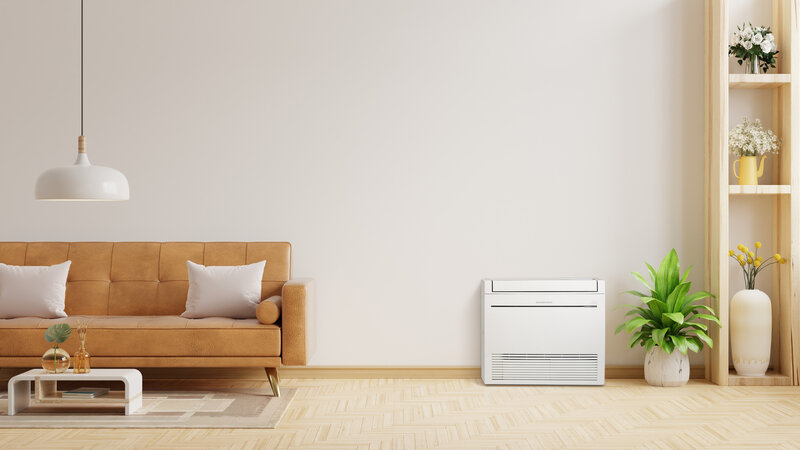 How important is energy efficiency?
Energy efficiency is simply using less energy to perform the same task or produce the same result. Energy-efficient homes and buildings use less energy to heat, cool, and run appliances and electronics, and energy-efficient manufacturing facilities use less energy to produce goods. Obviously, energy efficiency is environmentally friendly. Energy efficiency brings a variety of benefits: reducing greenhouse gas emissions, reducing demand for energy imports, and lowering costs on a household and economy-wide level.
As well as keeping your home warm, choosing an energy-efficient heat pump saves you money on your power bills. Before you make a purchase, look for units with high energy star ratings, these have been independently assessed as using energy more efficiently than lower-rated models. Investing in a more energy-efficient heat pump can pay off in the long run.
How cold does it get where you live?
If you live in an area that regularly experiences below-freezing temperatures, it's important to choose a heat pump designed to cope with these extreme conditions. Not all heat pumps are created equal, and some are better suited to colder climates than others. Outdoor ambient conditions during winter play a big role in choosing the right heat pump for your environment. Look for units that have been designed and tested specifically for the conditions in your area to ensure optimal performance. If in doubt, talk to the experts.
What extra features do you want?
Finally, before you decide to purchase, it's worth considering any extra features you may want when it comes to choosing the right heat pump for you.
With a host of optional upgrades from Wi-Fi Control to Plasma Quad Connect high-performance air filtration, there is a unit to fit your lifestyle. Improving indoor air quality can be particularly beneficial for people with allergies or respiratory issues. Others may come with advanced programming features that allow you to set schedules and control your heat pump from your smartphone.
Bonus Tip:

Look for the energy star rating

"Heat pumps are the most efficient way of using electricity to heat your home, but some are much more efficient than others. Look for the Energy Rating Label – the more stars, the more energy-efficient."  Energywise

The Energy Star rating helps to demonstrate your heat pump's efficiency. The lowest energy-efficient heat pumps available in New Zealand are 250% efficient (they give $2.50 heat for every $1 of electricity used). The most efficient models on the market are over 500% efficient.

ENERGY STAR® qualified heat pumps use up to 30% less energy compared to a non-qualified model. They may cost more upfront to purchase, but it could save you up to $150 each year on running costs which will ensure you get the best return for your investment.
We have chosen to align ourselves with Mitsubishi-Electric, a proven and trusted leading brand in the industry.
We know from experience their products provide years of trouble-free service, and they offer excellent technical support. We cover the full range of Mitsubishi Electric Residential and Commercial heat pumps and air conditioning units.
Our highly qualified team offers a personalised service during every step of the process, and this dedication to customer service is the key focus of our business.
Don't settle for a chilly home this winter. Choosing the right heat pump for you and your family so you are warm and cosy throughout the winter is important to ensure your comfort and satisfaction with your investment.
Here's what one satisfied customer had to say about their experience with Flocon:
I was overwhelmed by the options available when it came to choosing a heat pump for my home. But Flocon made the process so easy and stress-free. Their friendly staff guided me through the selection process and helped me find the perfect heat pump for my needs. I couldn't be happier with my purchase!  Sophie, Auckland
Contact us today, and let us help you find the best heat pump for your needs.