If you're searching for the best heat pumps on the market to navigate through the unpredictable twists and turns of spring weather, you've come to the right place!
With so many heat pumps and brands to choose from, it can be a headache scrolling through hundreds of pages to find out. That's why our expert team have compiled a list of our top heat pump picks for spring that will keep your home comfortable all year round.
Whether you're looking for multi-room solutions or the quietest heat pump available, we've covered all your heating and cooling needs.
OmniCore – customize your chill
Spring weather can change to scorching hot one minute; it's chilly and windy the next. That's where the OmniCore Multi Room Heat Pump system comes to the rescue!
It allows you to customise your chill by connecting different indoor units to one outdoor unit. Whether hot or cold outside, each room can have its own perfectly tailored heat pump. It's like having a weather whisperer for your home!
Regardless of size, every room can benefit from a heat pump's comfort. Say goodbye to the hassle of picking a single space for a heat pump, as each room can now have a suitable unit for its specific needs.
EcoCore AP Series – silence…the symphony of Spring!
What is the quietest heat pump in NZ?
If you want a heat pump that harmonises with the spring symphony, keeping your home serene and peaceful, our EcoCore AP Series could be the best on the market!
These little beauties are designed to be the quietest in New Zealand, ensuring that your home remains an oasis of tranquillity, even when the weather outside is throwing a tantrum. No more disruptive noise!
One of the most popular and in-demand features is the optional upgrade of Wi-Fi Control. You can heat or cool a room no matter where you are in the world!

Black Diamond LN Series – the ultimate in style
No matter how fickle the spring weather gets, you can rest easy in your cosy and comfortable sanctuary in style with our Black Diamond LN Series.
Designed with advanced technology, these heat pumps are like superheroes, providing unmatched heating capabilities while operating quietly.
This stylish range comes in three distinctive colours: Red Diamond, Black Diamond and White Diamond and has a unique brushed texture and gloss finish.
Breathe easy with the Lossnay Fresh Air Heat Recovery Ventilation
In addition to our top picks, we also recommend the Lossnay Fresh Air Heat Recovery Ventilation system by Mitsubishi Electric.
Suppose you need to breathe easy through the spring weather. In that case, this system provides fresh air ventilation while recovering the heat from the outgoing stale air, resulting in a healthier indoor environment and energy savings. Breathe in clean and fresh air all day long!
With the Lossnay Fresh Air Heat Recovery Ventilation, you can integrate ventilation and heating into one efficient system that can be controlled with a single remote. This solution can provide conditioned fresh air while reducing dampness, toxins, and dust in your home. It is ideal for heating, cooling, and ventilating an average New Zealand home.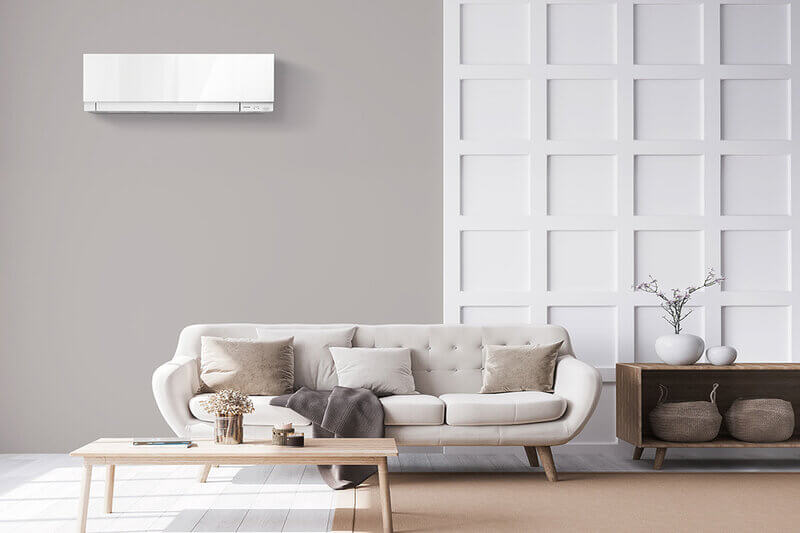 What is the best brand of heat pump?
When selecting the best heat pump system, we firmly believe that Mitsubishi Electric stands out. There are several reasons why Mitsubishi Electric heat pumps are the top choice for homeowners in New Zealand:
Advanced technology
Mitsubishi Electric utilises advanced INVERTER-driven compressor technology, ensuring consistent temperatures throughout your space while saving energy. This technology allows the heat pumps to provide efficient heating and cooling, making them suitable for summer and winter use. You can enjoy a comfortable environment while reducing your energy consumption.
Environmentally friendly and energy-efficient
Mitsubishi Electric heat pumps use ozone-friendly R-32 refrigerant and have zero Ozone Depletion Potential. Not only are they better for the environment, but they also consume less electricity and power. Mitsubishi Electric heat pumps can save you up to 50% on energy compared to conventional systems. By choosing Mitsubishi Electric, you can be confident that you are making a sustainable and cost-effective choice for your home.
Whisper quiet technology
If peace and quiet are essential to you, Mitsubishi Electric's products are among the quietest heating and cooling systems available. You can enjoy a peaceful and comfortable environment without any disruptive noise. Whether working, relaxing, or sleeping, Mitsubishi Electric heat pumps will provide you the tranquillity you desire.
Remote control options
Imagine this: you're curled up on the couch, enjoying a cosy moment, and suddenly the weather changes again.
With Mitsubishi Electric's heat pumps, you don't need to get up to adjust the temperature. Choose from hard-wired, wireless remote, or smart wireless controls, and you can tweak your comfort levels from anywhere in your home. So, you're always in control whether you're binge-watching your favourite show or catching up on work.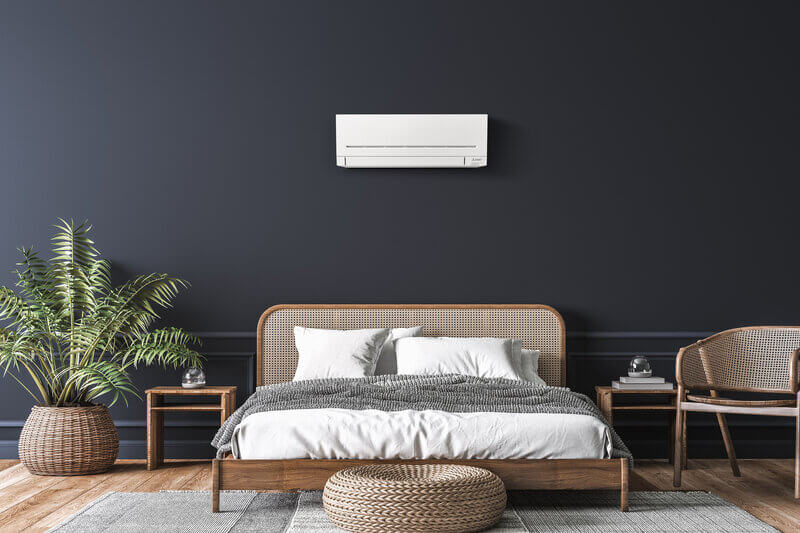 Invest in the best heat pumps on the market
By choosing one of our recommended Mitsubishi Electric heat pumps, you invest in a reliable, efficient, high-performance heating and cooling solution for your home. Experience the excellence of Mitsubishi Electric and create a comfortable environment that suits your lifestyle.
If one of our top heat pump picks interests you, contact us today! Our highly qualified team offers a personalised service during every step of the process.
For more in-depth information on Mitsubishi Electric heat pumps and to explore our entire range of heat pumps and air conditioning solutions, visit our product page.
Spring weather can be a wild ride, but with these heat pumps, you'll always be in control of your comfort.