Summer is coming and it's easy to forget how warm New Zealand summers are after a long winter! Keeping your house cool during the summer months can sometimes be a challenge – but we've got some tips and tricks on how to do that.
There are many ways you can keep your home cool that will also help your air conditioner or heat pump work more efficiently and effectively.
You may be worried about your energy bill over the summer – so we've got some extra things you can try to reduce your energy use while also getting the most from your heat pump or split air conditioning system.
Keep your house cool this summer and get the most out of your airconditioning system
Sounds strange I know – but shut your windows and doors
Night time air brings some relief during the summer months as the temperatures drop sometimes to a more bearable temperature.
If you know you're in for a scorcher the next day the best thing you can do is to keep your windows open at night. This will help circulate cooler air through your home. The next day close your windows and doors before it starts to heat up and trap all that cooler air inside. 
Night time can also be warm and if you find it hard to sleep or that your room is too warm – get in touch with a professional air conditioning installer to find out about what system could work for your home.
Close your blinds and curtains during the day
This technique works similar to shutting your windows and doors by trapping cool air inside your home. It means you don't have to have your air conditioning cranked up all day every day – only just when you need it, but it will also help keep cooler air in your home for longer.
This will also help reduce your energy costs and your heat pump or air conditioner will run more effectively!
Swap your incandescent lights for more energy-efficient ones
It may seem like a crazy idea on how to keep your home cool, but did you know that incandescent lighting wastes around 90% of energy as heat?
If your home is full of incandescent bulbs they are only helping to make your home warmer – so consider swapping these out for better energy-saving bulbs. It will save you money too!
Cook outside rather than inside
Kitchen appliances like ovens are a source of heat. And in summer – it's heat you don't want in your home. Try cooking outside on a BBQ or portable stove and keep the heat out of your home!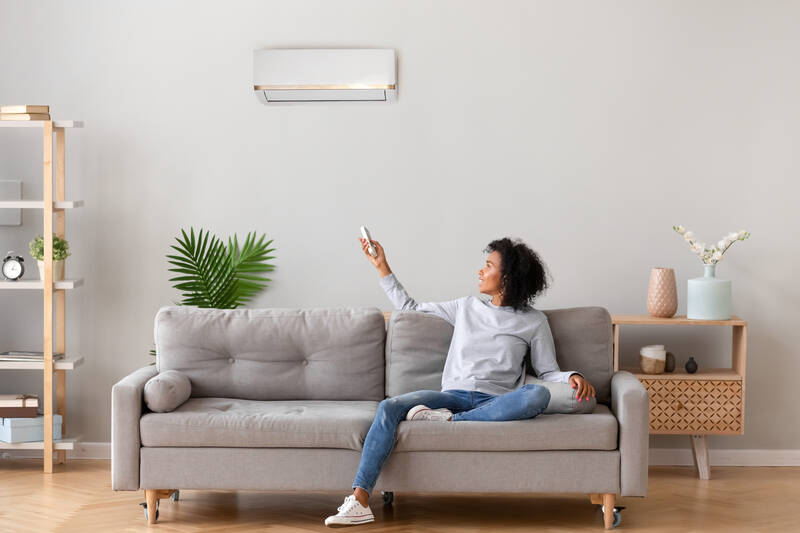 Get your heat pump or split air conditioner serviced
It's always important to keep your heat pump or split air conditioner serviced and maintained. You can check out our cleaning tips here or beat the summer rush and book your professional service now.
Not only will regular maintenance keep your system running efficiently and effectively but it will help you use less energy – which is great for the planet and your pocket too.
Check out our blog for other tips on how to keep your house cool this summer!
The best tip on how to keep your house cool – install a split air conditioning system or a heat pump!
Mitsubishi Electric heat pumps or split air conditioners work by circulating cool around your space or your home. Installing one of these is a perfect way to get cool (or warm) air in your bedrooms, living areas, or any space you need it in your home.
Get in touch with us to find out more about installing air conditioning in your home.
Most heat pump systems are dual-purpose and allow your home to be kept cool as well as warm during cooler temperatures. So it makes sense to have one appliance that does both jobs.
We can help you choose the right heat pump and air conditioner or another type of system if that's what you are after. Of course, it all depends on your style of home, lifestyle, and budget your after.
We are a team of professional heat pump and air conditioning installers and technicians and more than happy to help with any questions you have about air conditioning and heating in your home, so get in touch today.
To find out more about us or the range of services we offer – please check out our website.