Is your house strewn with bulky fans and heaters as you try to balance the instability of spring weather? The best way to keep your heat and cool is with a dual heat pump and air conditioner. A dual heating system is a perfect way to help keep temperatures regulated and balance the warm and cool with just one remote.
What's a dual heat pump and air conditioner?
We use the term 'dual' because a heat pump will not only efficiently heat your home but also keep it cool.
Spring weather is always changing, and it can go from feeling like summer one minute to a bitter wintery wind very quickly.
A dual heat pump will do both the jobs of a heater and a fan – which simplifies your home heating and cooling system. It will make a big difference to your spring power bills and maximise your space.
It is not just heat pumps but many other Mitsubishi Electric systems such as central heating, floor consoles, and much more – just contact us to find out what ones.
Mitsubishi Electric heat pump and air conditioning technology
Mitsubishi Electric heat pump and air conditioners have a range of unique technologies that make them beneficial for any residential or commercial space.
And perfect for balancing spring weather!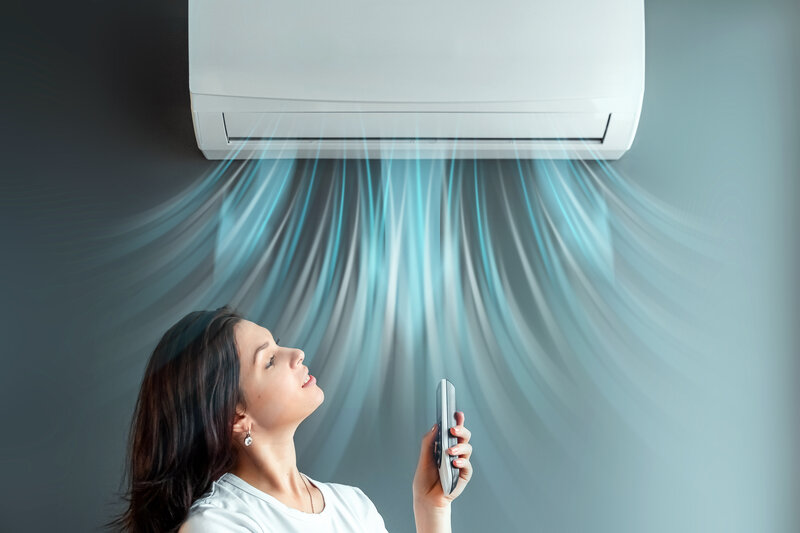 Mitsubishi Electric heat pumps and air conditioners are world-renowned for having whisper-quiet technology, so regardless if it's hot or cold you won't hear it.
The Plasma quad filtration system will also help filter out any nasties in the air.
Spring allergies are particularly common. The filtration system is especially important during spring and summer months when pollen, dust, and allergens are in the air.
Don't forget about the clever Wi-Fi control system either! So you can arrive home to a warm or cool house!
If a heat pump type system isn't what your after there are plenty more options to choose from too.
Ducted Central Heat Pump and Air Conditioning Systems are designed to provide whole-home central heating or cooling at a constant temperature throughout the whole house – Mitsubishi Electric
No matter the temperature – Mitsubishi Electric heating and cooling systems will have you covered with the best technology.
Keep your home comfortable when it's hot or cold!
As we all know, spring weather is usually unpredictable varying from a warm sunny day to literally freezing overnight.
At the drop of a button, you can have either warm or cold air flowing through your home. Springtime can be tricky – you don't know whether to dress warm or cold, what sheets or how many blankets to use on your bed!
It's generally recommended to have air conditioners set at around 24 degrees during the summer.
The reason why
It's more energy-efficient than having it set at 18 degrees or so, then the air conditioner doesn't have to work so hard to make the warm air cold.
It's the most cost-effective setting to keep cool.
Keep your home comfortable by doing the logical thing and getting a heat pump and air conditioning system installed.  After spring comes summer, so get in before you regret it!
Most heat pump systems are dual-purpose and allow your home to be kept cool as well as warm during cooler temperatures. So it makes sense to have one appliance that does both jobs.
We can help you choose the right heat pump and air conditioner or another type of system if that's what you are after. Of course, it all depends on your style of home, lifestyle, and budget your after.
We're more than happy to help with any questions you have about air conditioning and heating in your home, so get in touch today.