Decluttering and being space savvy with appliances are right on trend in homes right now.
Everything from home appliances, laundries and linen cupboards can all benefit from a space-saving makeover.
So what about heating?
Heat pumps are a great way to save space for your flooring – but if you prefer wall space to floor space what is an alternative option?
Floor consoles are heat pumps that are mounted to the floor, while still providing many of the benefits of a high wall heating system.
What are the advantages of installing a floor console?
Floor consoles are perfect for homes where wall space rates higher than floor space. 
Many of our customers have added these heating and cooling systems to their renovated homes – where they can fit snuggly into gaps. For example, if you are removing an old fireplace but aren't sure what to put in the gap instead – that's where a floor console would be ideal.
What is the difference between a floor console and a heat pump?
Floor consoles are installed on the floor, or lower areas of walls while high wall heat pumps are installed higher up on wall surfaces.
A floor console can fit into a gap in the wall or be installed in a recess to sit flush with the wall. A heat pump is installed on a wall surface but does not sit inside a recess.
Both are excellent heating and cooling system and have great energy efficiency.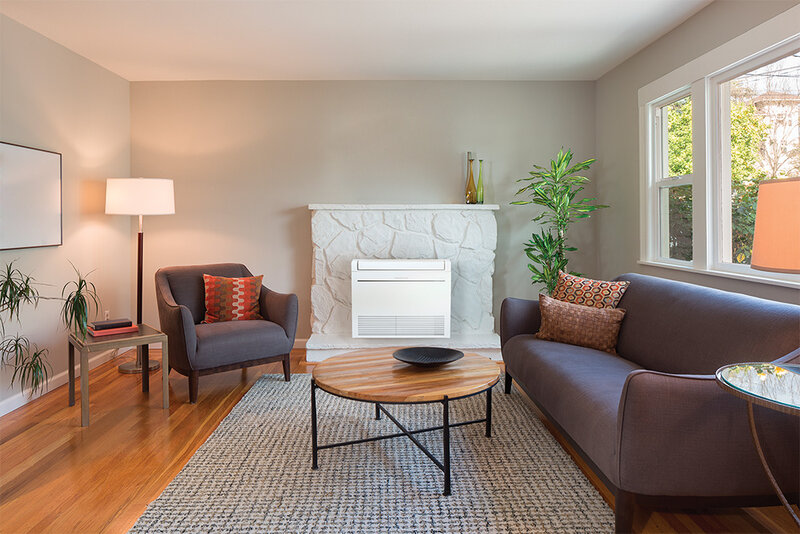 Should I get a floor console installed?
Modern floor consoles have a slimline design – meaning they sit closer to the wall and don't protrude so much over your precious floor space. Or the alternative is to install them recessed in walls so they don't protrude at all.
They are the perfect option for small to large rooms, renovations, or office rooms.
With Mitsubishi Electric's Rapidheat technology, floor consoles are powerful enough to heat the whole space they are installed in.
If you do have any questions about the Mitsubishi range of floor consoles – give us a call – we offer free no-obligation quotes.
Why should you choose a Mitsubishi Electric floor console heating system?
Mitsubishi Electric has two different styles of floor consoles:
RapidHeat HyperCore® Floor Console Heat Pumps 
The only floor console heat pump in NZ featuring patented HyperCore® Technology. It's New Zealand's best-performing heat pump in cold conditions, guaranteed to perform at its full heating capacity right down to -15°C.
RapidHeat Floor Console Heat Pumps
The only slimline floor console in NZ offering patented Rapid Heat Technology, so you can feel the heat twice as fast*. Featuring RapidHeat Advanced Sensors with Intuitive Control Logic Technology, for unparalleled low-temperature heating performance in the shortest amount of time.
*Compared to our previous model.
Mitsubishi Electric floor console technology
Mitsubishi Electric floor consoles are still an energy-efficient heating and cooling system.
In fact, the Mitsubishi range of floor consoles are:
New Zealand's quietest floor consoles

Energy efficient

Space savvy

Multi Vane Flow Function

More environmentally friendly R32 refrigerant

Anti-allergy enzyme filter

7-day programmable controller
You are getting all the best of Mitsubishi Electric Technology in a modern and compact slimline design.
You have the option to connect your Floor Console within a Multi Room Connection system.
With its Multi Vane Flow function, the Floor Console series can minimise the effect of draughts at floor level. This function blows warm air both upwards and downwards through 3 uniquely shaped vanes. Your heat is then distributed quickly and evenly.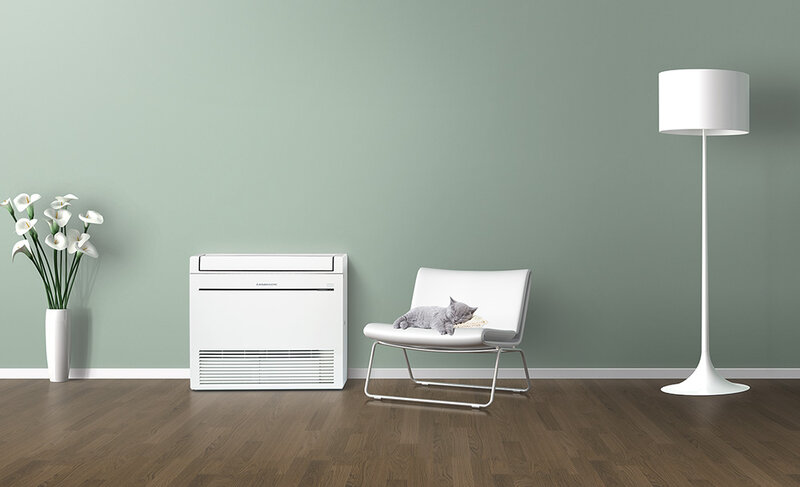 Mitsubishi Electric Wi-Fi Control Upgrade
You can add the award-winning Mitsubishi Electric Wi-Fi Control upgrade to your Floor Console too.
Wi-Fi Control lets you monitor your heat or cooling system from absolutely anywhere via your smartphone, tablet, or online account. You can pre-heat or cool a room no matter where you are – on the way home, running late or coming home early. With Wi-Fi Control you'll always arrive home to total comfort regardless of what New Zealand's unpredictable weather is doing outside!
We are Mitsubishi Electric heating and cooling experts
If you are interested in finding out more about the exceptional range from Mitsubishi Electric including Floor Consoles then get in touch with us.
Our team installs systems all around the Auckland region and we service both residential and commercial systems.
We provide you with the best possible solution for your heating and cooling needs. We guarantee a quality Mitsubishi Electric product and ensure you have the right heat pump for your lifestyle with sleek, sophisticated designs.