Buying a heat pump is a lot like buying a car – it's a significant investment that will hopefully last for years. And just like a car, you'll probably use your heat pump every day, so you'll want one that is efficient, reliable, and built to last.
With that in mind, if you're looking to heat/cool your home in our nation's largest city, we can help you choose the right tool for the job. And believe us when we say it's one of Mitsubishi Electric's AP Series.
EcoCore AP Series – the perfect Auckland heat pump
When it comes to climate, Auckland sees its fair share of diversity.
It can get hot in the summer, dropping to single digits in winter. Droughts, floods, hail and sleet, bushfires and cyclones, and even the occasional tornado! If you've ever been sunbathing in the morning and flooded out that afternoon, you might just live in Auckland!
With weather like this, it's important to have a reliable heat pump, and that's where the EcoCore AP Series comes in.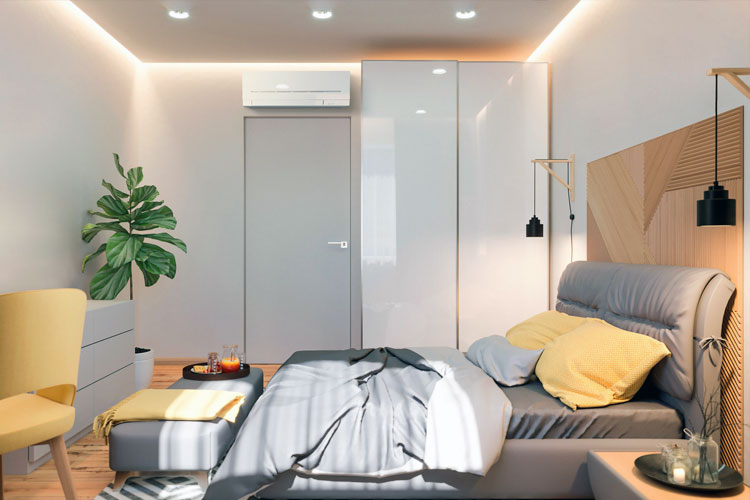 Perfect for an Auckland apartment
Not only is the AP Series designed to use less power than ever before, making it New Zealand's most energy-efficient and eco-friendly solution on the market, but it's also whisper quiet.
Starting at only 18 decibels, it's New Zealand's quietest heat pump, and if you're living in an apartment in the city, your neighbours will appreciate the silence!
When it comes to bedtime, Night Mode disables all beeping sounds, goes even quieter by another 3 decibels, and even dims the indicator light's brightness, ensuring you get a good night's sleep.
One of the issues with living in the city is the pollution from the traffic, but the AP Series has that covered too.
The optional plasma quad connect features high-performance two-stage plasma technology, an advanced filtration system that cleans smells, dust, mould and other common household allergens, making it an ideal addition for asthma and allergy sufferers.
Perfect for the Auckland suburbs
Like the weather, Auckland's homes come in many different shapes and sizes. If you live out in the suburbs, away from the hustle and bustle of the city, the AP series of heat pumps are still perfect for you.
Ideal for living rooms and bedrooms, the advanced features of the AP Series will maximise efficiency and keep you and your family warm in the winter and cool in the summer.
The AP Mini is New Zealand's smallest indoor heat pump, perfect for bedrooms, offices or hallways. The unit's superior energy efficiency is achieved by incorporating a large, high-density heat exchanger, an advanced high-efficiency fan motor and a next-generation inverter compressor that uses a more efficient R32 refrigerant. In plain English, it's small, but it still packs a punch!
For larger rooms, the EcoCore AP Classic Series has seven models to choose from. The largest unit, the AP 80, is powerful enough to heat any family-sized room.
Perfect for the Auckland family
Mitsubishi Electric's award-winning Wi-Fi Control allows you to control your home's climate from the sofa… in someone else's house!
You can monitor and control your heat pump from anywhere in the world using your phone, tablet or online account.
Cold winter night? Have your home nice and warm for the kids by the time you get back from visiting Granny. Sweltering hot summer? Get the aircon on for coming home from the beach. It can all be managed at the touch of a button, anytime, anywhere.
And if you've got Amazon Alexa and Google Home enabled, even better! You can use your smart speaker to control your Auckland heat pump without lifting a finger!
Perfect for the Auckland air
Auckland isn't called the City of Sails for nothing. Our beautiful harbour gives pleasure to thousands of boating and sailing enthusiasts every week. But living by the sea comes at a price; salt.
But not to worry, Mitsubishi Electric has thought of that too! The outdoor unit's heat exchanger has been treated with Blue Fin anti-corrosion treatment, slowing the corrosion process caused by the salt air in coastal areas.
This means that the AP Series is the perfect Auckland heat pump!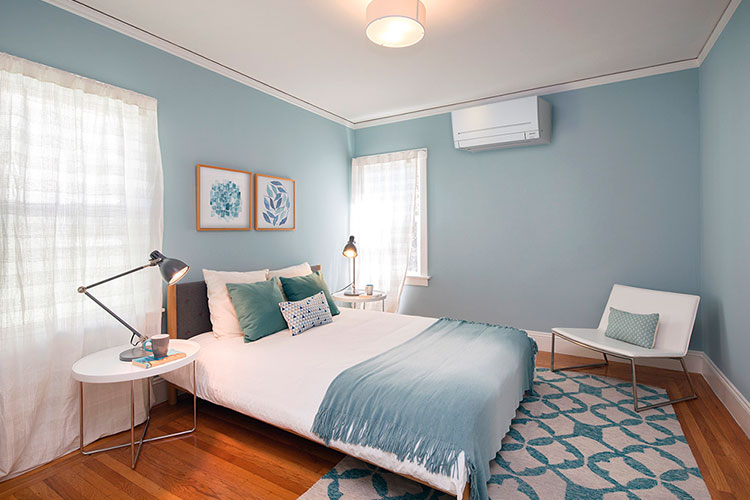 Mitsubishi Electric heat pumps
As a world leader in heat pump technology, Mitsubishi Electric supplies a wide range of products designed to heat and cool homes and businesses alike.
Known for efficiency, reliability and whisper-like noise levels, their Auckland heat pumps are found everywhere, from small residential units to large commercial facilities.
Mitsubishi Electric is an established world leader in heat pump technology, and its commitment to rigorous factory testing ensures its products are of the highest quality and feature superior technology, which is why we only choose to sell them and no other brand.
The new EcoCore AP Series is an excellent example of why Mitsubishi Electric's heat pumps are perfect for Auckland's diverse weather.
The range can meet any requirement you have, from small bedrooms to large living rooms. They're energy-efficient, whisper-quiet and built to handle the ever-changing Auckland climate.
If you would like to know more about the perfect Auckland heat pump, please don't hesitate to contact us today and speak to one of our friendly staff members.