Flocon is mainly best known for its residential heat pumps and air conditioners. But did you know we also offer affordable commercial cooling solutions?
Whether you want to extend your commercial pool swimming season for the added fun and value it brings your customers, or you need a reliable commercial refrigeration system that keeps your products at a precise temperature – we have a cooling solution for you.
Meet the future of commercial heating and cooling with Mitsubishi Electric's sustainable commercial cooling solutions designed for your New Zealand building needs.
City Multi Hybrid VRF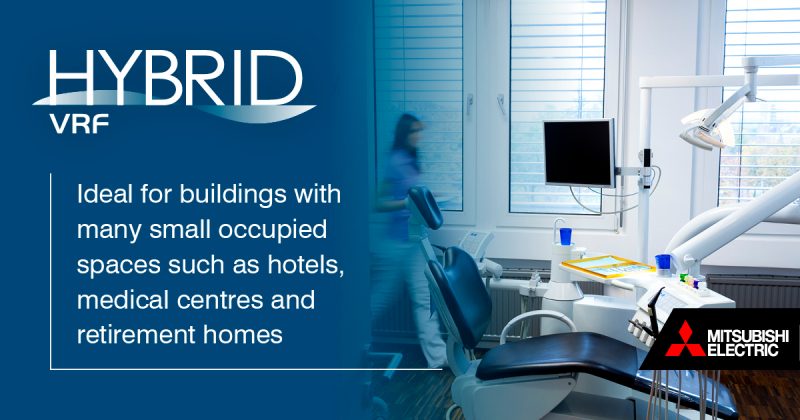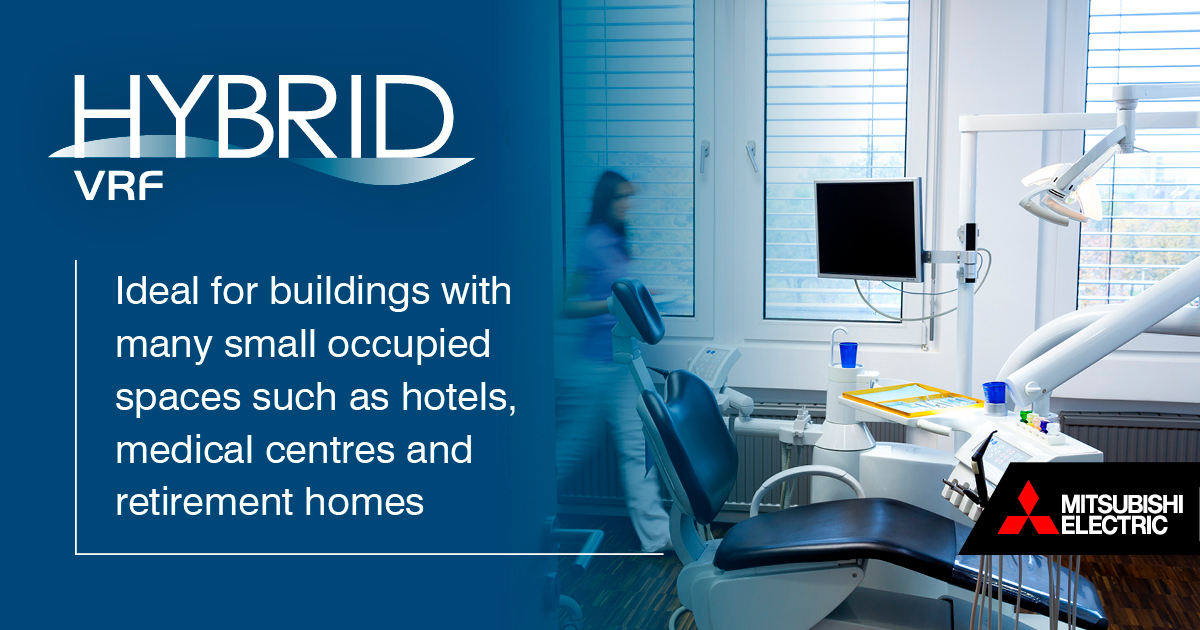 The City Multi Hybrid VRF (variable refrigerant flow) is the cutting edge in commercial air-conditioning technology.
Suitable for medium to large buildings that occupy many small spaces, such as hotels, medical centres or retirement homes. With its high performance and optimum efficiency, the Mitsubishi Electric City Multi Hybrid VRF range can run numerous indoor units connected to one outdoor unit.
If you're looking for an energy-efficient, adaptable, and reliable cooling solution, then the City Multi VRF is an excellent and unique solution.
What makes it so unique?
It's the only two-pipe simultaneous heating and cooling solution system in the world! Proven in the field under rigorous conditions, the two-pipe technology is cheaper to install, durable, reliable, energy-efficient, and provides superior levels of control accuracy.
It utilises integrated air conditioning, hot water, ventilation, and control solutions and can be installed with a commercial hot water heat pump.
Want to know more about how The City Multi Hybrid VRF can add value to your building? Find out more here!
Commercial hot water heat pumps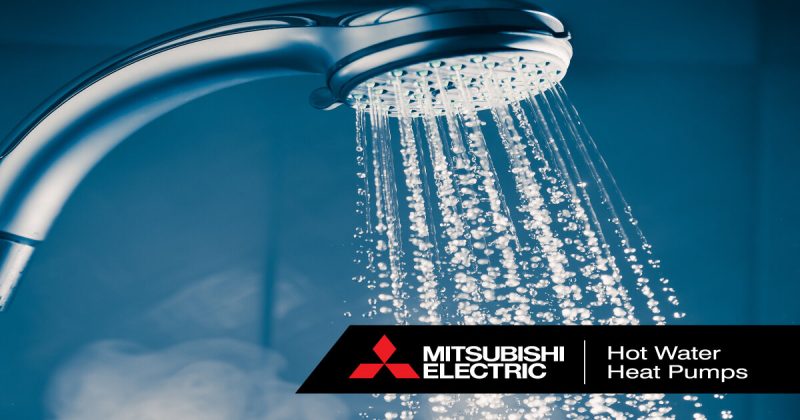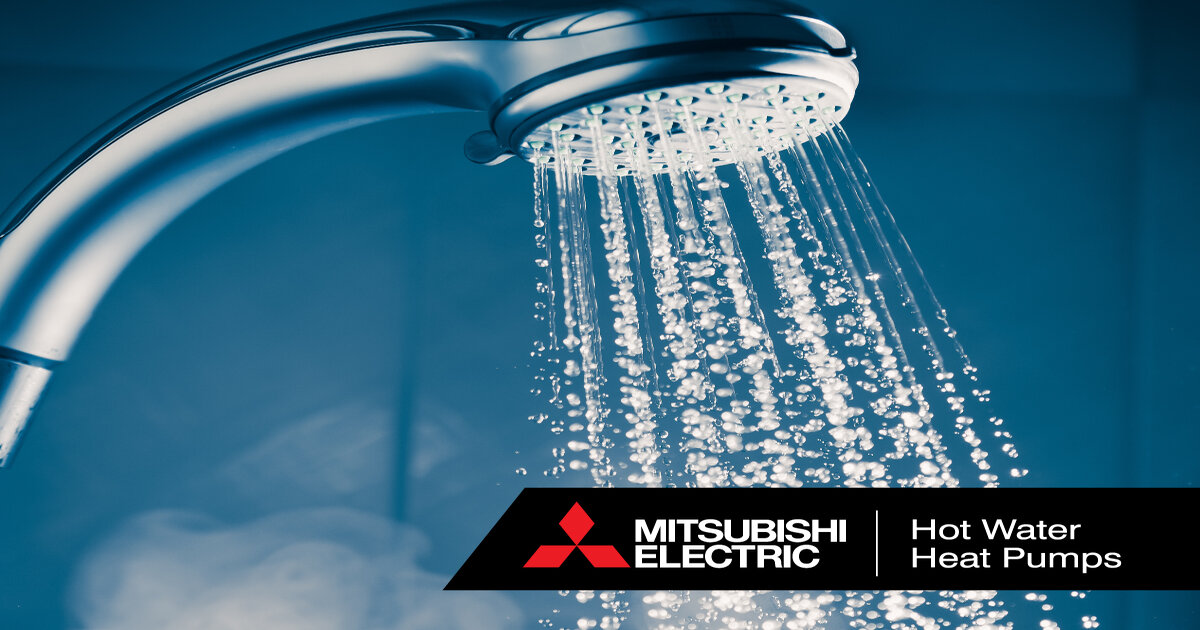 Increasing energy bills, coupled with the need to heat our hot water efficiently, are driving the demand for alternative forms of water heating.
This is where Mitsubishi Electric leads the way with their experience and industry-leading technology to develop next-generation Air-to-Water Heat Pumps. This super energy solution combines hot water heating and heating/cooling in one simple system!
Specifically designed for large applications, Mitsubishi Electric's Commercial hot water products have the flexibility to adapt efficiently to any building requirement with the ability to heat water more efficiently than ever before.
Key features of hot water heat pumps
High Rated Heating Capacity
High efficiency (Achieved COP 3.88*)
Supplies high-temperature hot water of up to 90°C
Operable even at low outdoor temperatures
Utilises natural CO2 refrigerant, which has zero Ozone Depletion Potential (ODP) and a Global Warming Potential (GWP) of 1
Multiple units can be grouped to form a bank of 640kW rated heating capacity
Compact dimensions, minimising plant space
Discover our Mitsubishi Electric Hot Water Heat Pumps range:
For tailored expert advice on ensuring you receive the best heating and cooling solutions for your business, contact us today for a no-obligation chat.
Commercial refrigeration – keep your products fresh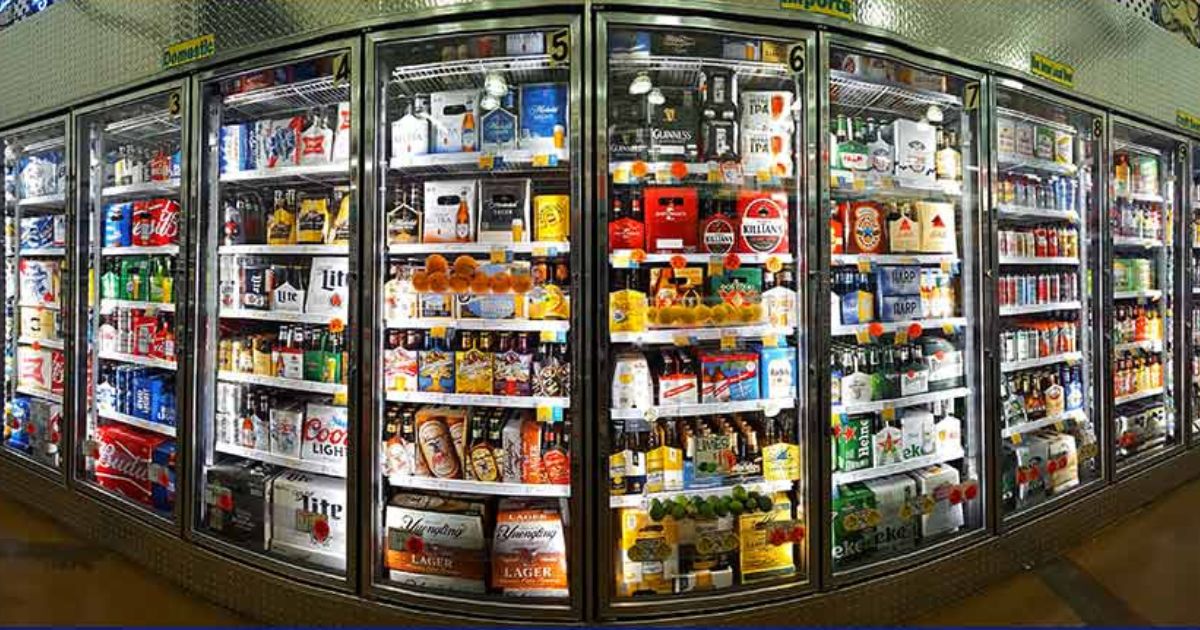 Commercial refrigeration is a core requirement for any business that sells stores or prepares chilled or perishable items.
Commercial refrigeration products are opened multiple times daily. Therefore they need a rapid chill capacity to maintain an even temperature for satisfactory results.
Whether it's a beer fridge for those after-work drinks, a cool room, a restaurant fridge, a wine cooler, or a walk-in freezer, we have the right commercial refrigeration model to fit your unique needs.
Flocon specialises in the refrigeration requirements of small to medium commercial businesses.
Liquor stores
Restaurants and Cafes
Butchers, dairies and much more
We supply and install rack systems, air-cooled condensers and unit coolers for refrigerated cabinets, cases, cool rooms, and freezers. We also provide and install refrigeration condensing units and evaporators for cool rooms.
Keep your products fresh and your customers coming back!
Talk to us today about selecting the correct product for your specific needs and budget. No matter what your refrigeration requirements are, we can help.
Commercial swimming pool heat pumps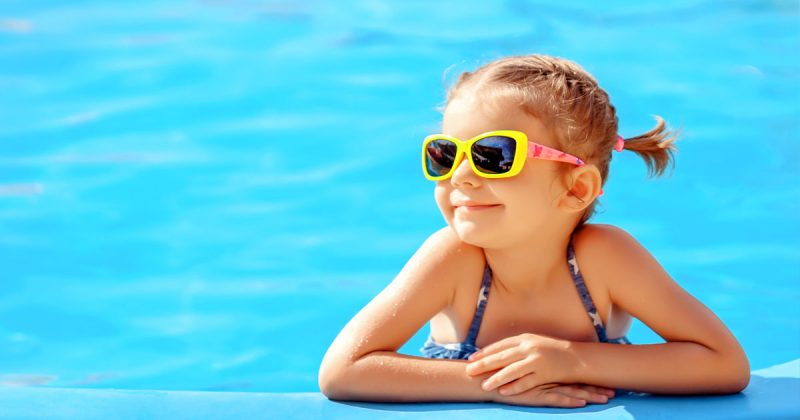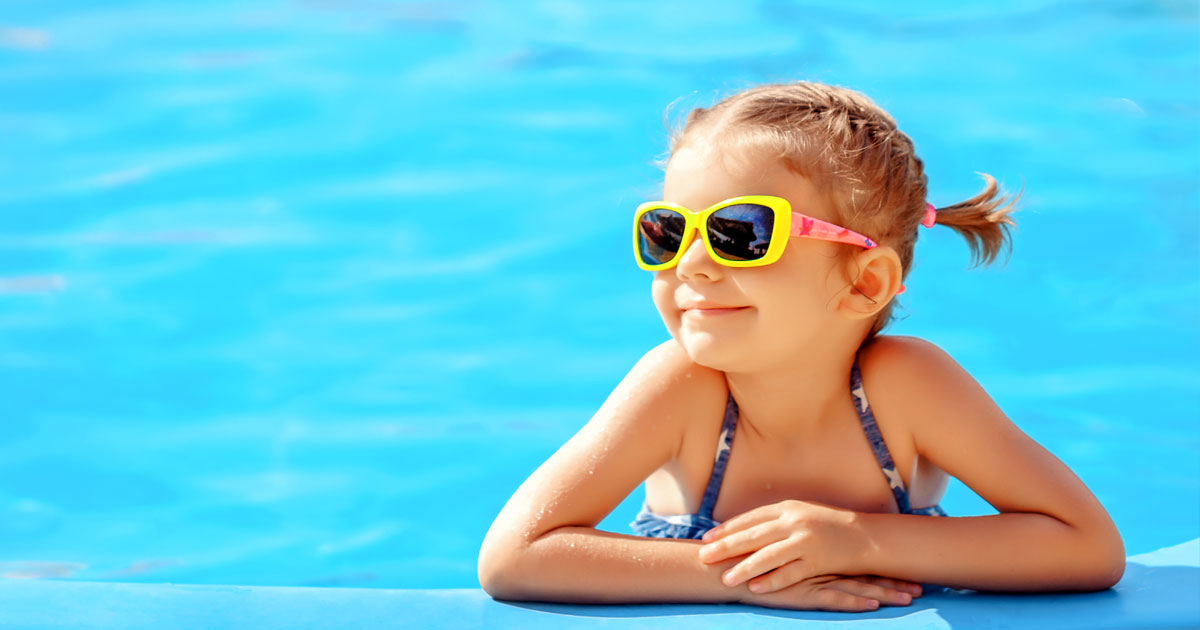 Do you want to extend your swimming season to six months or more?
Then installing a hot water heat pump system will allow you to do just that!
But how?
For many hospitality businesses, swimming pools are a feature that attracts guests. However, without some form of heating, you can only use a pool for three months of the year.
After solar energy, a heat pump hot water system is the most energy and cost-efficient method of heating a pool, with one major advantage –  you know the water will be warm whenever you need it to be and will maintain a constant, pre-set temperature.
With one of our commercial heat pump systems, you can extend your swimming season to six months or even more because they produce 16 times more energy than they consume – now that is efficient!
Key features of Mitsubishi Electric swimming pool heat pumps
Reliable, year-round water heating
Inverter driven for maximum energy efficiency
Water temperatures over 40°C
Operation in outdoor temperatures as low as -20°C
Environmentally friendly R410a refrigerant
Easy to use LCD Wall Controller with 7-Day Timer
"Eco" heating mode for outdoor ambient temperature compensation
Cooling mode available
Compact design
Learn more about our swimming pool heat pumps and the value they can bring your business here.
Need commercial cooling solutions? We're here to help!
At Flocon we know that every business is different, which is why we offer a range of commercially suitable products that can be adapted for any environment, from a small office to a high-rise building, we have you covered.
We supply and install exclusively Mitsubishi Electric heating and cooling systems because we know they are the best.
Their commercial systems are products of tireless research and testing, resulting in energy-efficient systems that will minimise your company's environmental impact.
We are experts in all commercial installations, from retrofits and new builds and developments, we can do it all.
Our friendly team will discuss your options and make a recommendation that you can trust.
So, what are you waiting for? Get in touch and discover how we can provide value to your New Zealand building or business with affordable cooling solutions you can rely on.