As we all know, Spring weather is unpredictable varying from a warm sunny day to literally freezing overnight.
Trying to keep your home comfortable in these constantly changing conditions is a tough ask. However, with our Mitsubishi AP Series heat pumps, you'll have the choice to control your temperature with a click of a button!
Whether you want warm or cold air flowing through your home, the advanced features of the Mitsubishi Electric AP Series will keep you and your family comfortable all year round, no matter how hot or cold it gets!
Meet the EcoCore AP20 Mini High-Wall Heat Pump
Thinking about buying a heat pump but your home has limited space?
Our AP20 Mini series is New Zealand's smallest high-wall heat pump.
This small but mighty 25cm high x 76cm wide footprint makes it ideal for positioning above doorways in bedrooms or home offices. Now smaller spaces no longer need to miss out on year-round comfort.


Meet the EcoCore AP 25 High Wall Heat Pump
The EcoCore AP25 High Wall Heat Pump sets a new standard in super energy-efficient heating and cooling. Starting at just 18dBA, it's New Zealand's quietest heat pump ever!
The sleek and stylish heating and cooling systems are excellent for living rooms and bedrooms! With Dual Barrier Coating that prevents dust and dirt build-up on the inner surface, the EcoCore AP25 stays clean year-round; maximising efficiency and home comfort.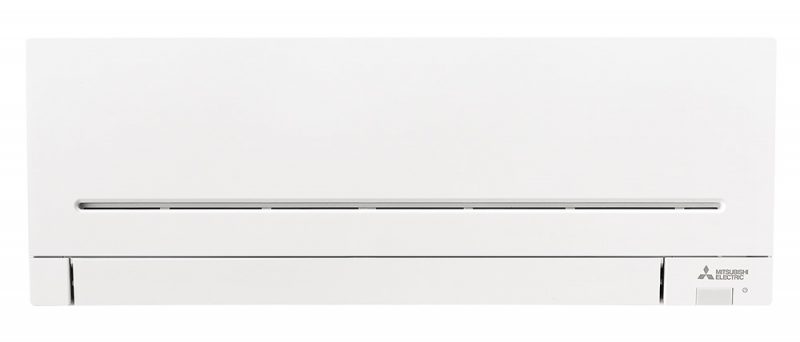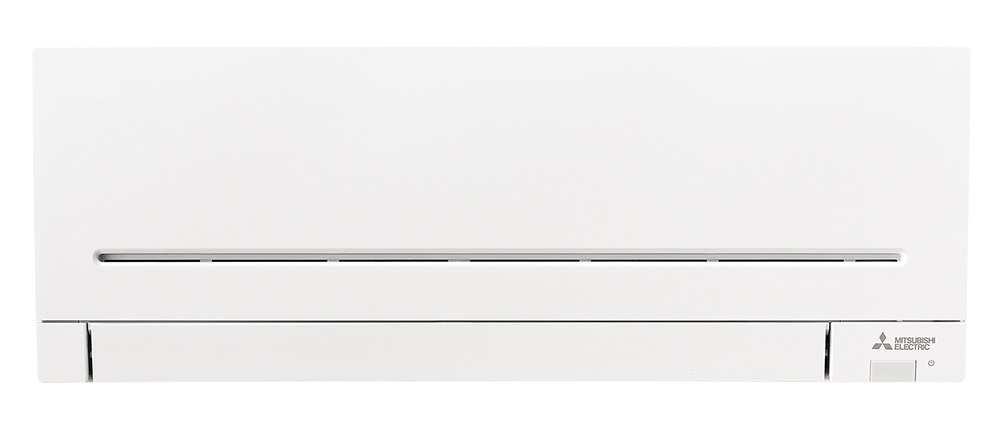 Key features of the Mitsubishi Electric AP series
Wi-Fi Control – never return to a cold home again
One of the most popular and in-demand features is the optional upgrade of Wi-Fi Control. You can heat or cool a room no matter where you are in the world! On the way home, running late, coming home early, or even when you're in a different country, with Wi-Fi Control, you'll always arrive home with total comfort.
You can talk with your heat pump technician about having this feature added. Wi-Fi Control is compatible when connected to an Amazon Alexa or Google Home smart device for voice control. 
See the magic for yourself with a Wi-Fi control demonstration here!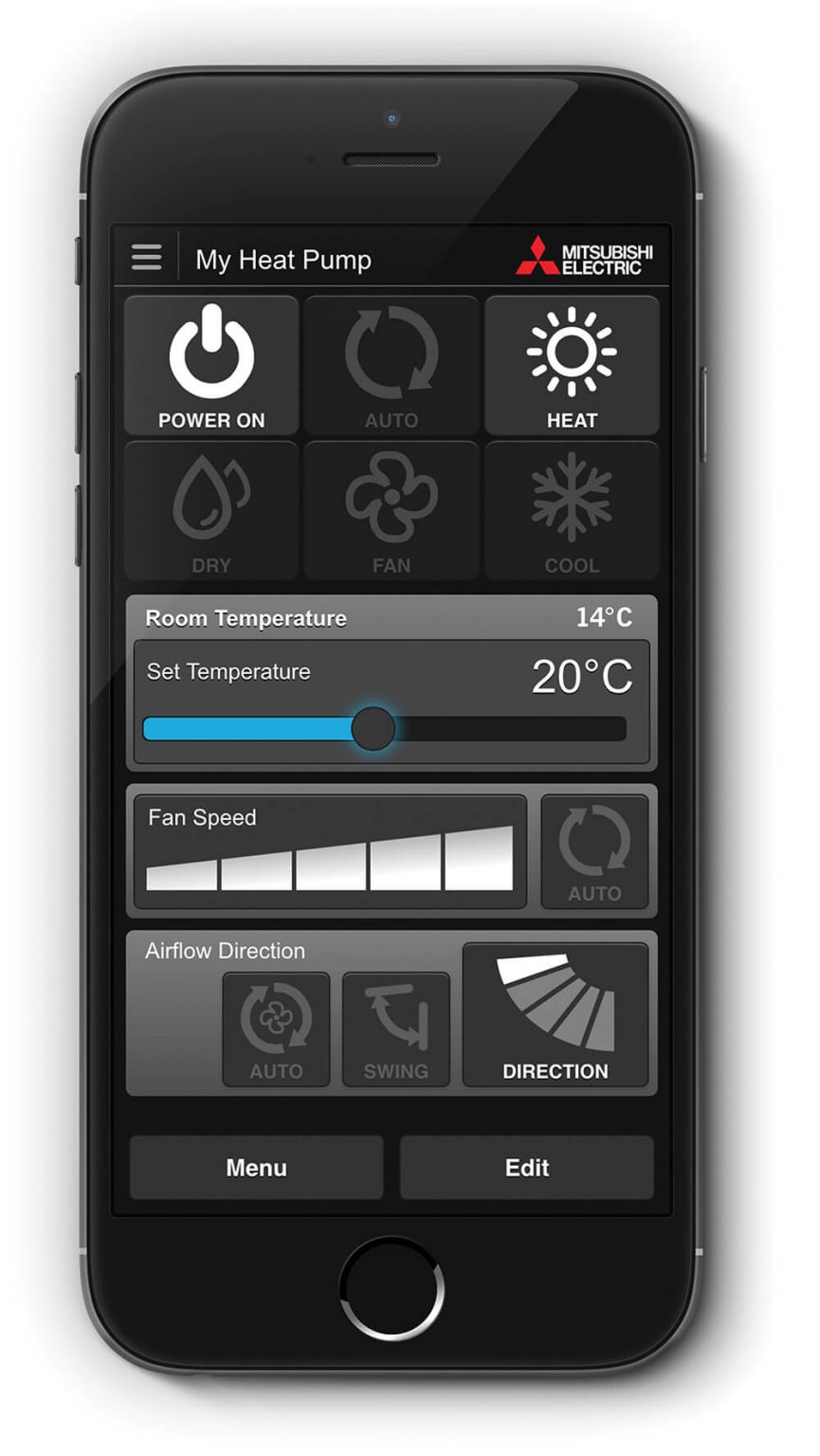 Quietness
The Mitsubishi Electric AP series is perfect if quietness matters most. With some clever thinking, the heat exchanger is minimised, and air can now be moved across a larger fan surface. 
Washable air purifying filter
Breathe easy with the outstanding feature of an Air Purifying Filter. This speciality filter traps particles such as dust, pollen, allergens, and other airborne contaminants. The filter also has antibacterial and deodorising effects, and can easily be washed by you to help keep your air clean. 
Horizontal, wide, and long airflow
The EcoCore AP Series eliminates uncomfortable draughts with Horizontal Airflow in Cooling Mode, by first spreading airflow evenly across the ceiling. The Wide Airflow Mode is perfect for open-plan living. This setting enables airflow direction to be adjusted from left to right, ensuring every room area is at a comfortable temperature. The Long Airflow Mode extends airflow distance to reach further. These modes can be simply activated by the touch of a button.
Blue fin condenser
The blue fin anti-corrosion treatment slows the corrosion process caused by salt and sulphur in the air and has been applied to the outdoor unit's heat exchanger.
Next-generation R32 EcoCore technology
It's all about superior energy efficiency. It is achieved by incorporating a  high-density heat exchanger, an advanced high-efficiency fan motor, and a next-generation compressor.  And the latest in super-efficient R32 refrigerant.
Dual barrier coating maximises efficient performance
The world's first Dual Barrier Coating from Mitsubishi Electric prevents dust and dirt. The special coating prevents build-up from gathering on the inner surface of the indoor unit, which helps your heat pump stay clean!
Night mode – for a quiet sleep
Get a quiet sleep by selecting Night Mode. The brightness of the lights on the heat pump is dimmed, beeping sounds are disabled, and the outdoor unit's sound drops by a further 3dBA.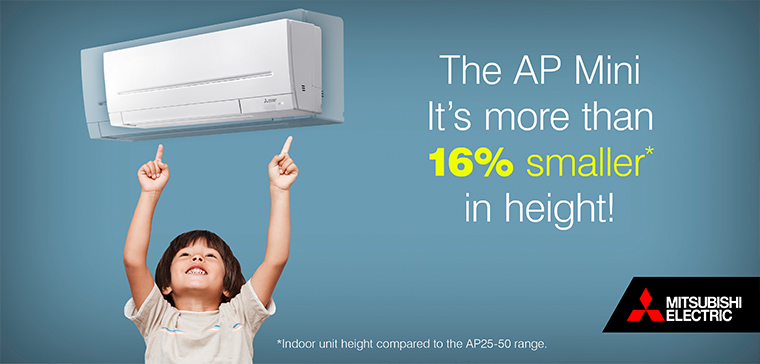 Be comfortable this spring with the Mitsubishi Electric AP series
With the latest Mitsubishi EcoCore AP Series, you can trust that you're investing in the best.
These sleek and stylish units provide your indoor space with the comfort you need all year round and are one of our most popular units during the spring and summer months.
They also provide the technology, quality, and cost efficiency! While those are important factors to consider when choosing a heat pump – getting the best customer service and support ensures that you invest your money in the right heating and cooling system for you.
That's where we are here to help!
We service both commercial and residential requirements in the region of Auckland. We have established ourselves as a competent and competitive business in the industry. We listen to our customers and make sure every experience with our company is exceptional for all our customers.
Installing a Heat pump was a big ticket item for me, so I did a lot of research beforehand. I decided to go with Flocon and was very happy with the result. The Head of Sales suggested a number of options, concentrating on what would work best, rather than what was the most expensive – at one point saying 'not to waste my money' on something I suggested.
The installers turned up exactly on time and were careful with our possessions during the installation. The install itself wasn't straightforward due to our house layout, but the end result looks fabulous. I came home to a totally clean house and a happy household.
I would recommend Flocon to my friends and would certainly use them again.

Martin Read – 2022
We offer a wide range of services including:
Heat pump sales

Heat pump installation

Maintenance and servicing

Commercial heating and cooling installations
Beat the rush this season and get your AP series heat pump today by contacting us for a no-obligation quote.
Or if you would like some expert advice, we're here to help you make the best decision for your home or commercial space.