Mitsubishi Electric has the best range of heating and cooling in New Zealand and have created Ecodan Hot Water Heat Pump Systems with their industry-leading technology. Ecodan is a heat pump solution that is energy efficient and combines both hot water heating and space heating with one system. 
With more people wanting eco-friendly alternatives to heating and cooling in their homes, there is a growing demand for better energy efficiency in appliances. Ecodan will help you save money and the amount of energy you use.
Mitsubishi Electric Ecodan Hot Water Heat Pump Systems – how does it work?
Did you know according to a BRANZ study that heating and hot water heating can account for 67% of your electricity bill?
That's a lot!
Imagine if you could change this?
Through their leading technologies, Mitsubishi Electric wants to help consumers target these high costs and reduce energy use with the outstanding Ecodan system.
The Ecodan heat pumps are made up of three components that operate together to provide a solution for both your space heating requirements and your hot water heating:  the outdoor unit, the hot water cylinder, and the control system. 
You can tailor the system to your home and your individual requirements – central heating and underfloor heating can also be added and a technician will advise on the different options available for you in your home.
Smart Energy Controls
Ecodan Hot Water Heat Pump Systems come standard with built-in Smart Energy Control. The smart energy controls provide an easy-to-use monitoring system for energy efficiency.
You get real-time visuals and information regarding your home's energy use. By keeping tabs on your energy use with Smart Energy controls, you will be in control of your electricity usage to help save you money.
Packed with plenty of advanced features the controller can provide heating for individual rooms to give you the ultimate in-home comfort.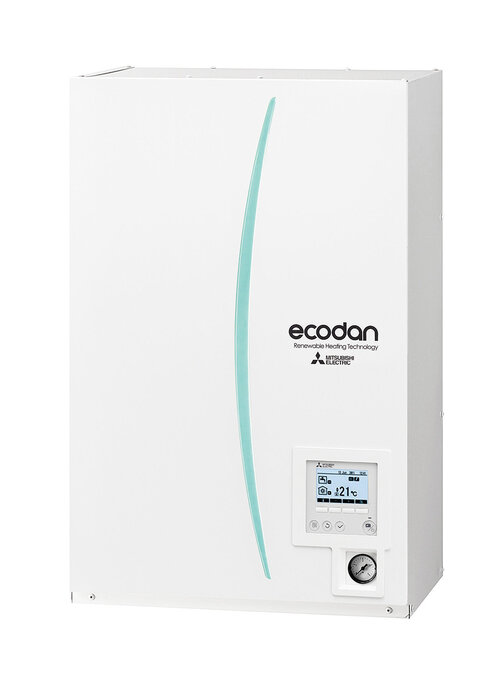 Energy-efficient hot water heating
Hot water cylinders have the very important job of heating the water in your home and they continuously heat water throughout the day and night – and that can consume a lot of electricity.
But to keep your water hot they use energy and that can account for around 30% of your energy bills each month.
The Ecodan system works as a complete heating system for your convenience and peace of mind.
How efficient is a hot water heat pump?
The Ecodan hot water heat pump uses similar exceptional technologies as standard heat pumps – only better – because it not only heats your home but your water too.
The efficiency of a heat pump is known as the Coefficient of Performance or COP. This is a ratio of the heat delivered to the power consumed. For every 1kW of electrical input energy, Ecodan absorbs freely available heat energy from the outdoor air to provide the home with an average of at least 3.2kW*1 of heat output.
Compared to typical gas and direct electric heating systems that can have higher running costs with inefficient COPs as low as 0.82*2, Ecodan Hot Water Heat Pumps provide a real energy-efficient alternative. –Mitsubishi Electric NZ

Invest in a Mitsubishi Electric Ecodan system today
Heating solutions in your home is a big investment. If you are looking for a solution for your heating or cooling needs then get in touch with our friendly team. 
We only install Mitsubishi Electric solutions – we trust them and we know they work. We are experts in the entire Mitsubishi Electric range of heating and cooling options for domestic or commercial spaces. We offer free no-obligation quotes and pride ourselves on our strong commitment to our customers and our services. 
Our team understands each home is different and requires different solutions for heating and cooling and hot water heating. We'd be happy to answer your questions about the Mitsubishi Electric Ecodan system so get in touch now.