If you want to efficiently keep a room cool during the warmer months then an air conditioning system is a great choice. We install a wide range of heating and cooling systems for residential and commercial premises around the Auckland region.
Most heat pump models double as air conditioners, as they provide cool clean air throughout your home.
The Mitsubishi Electric range allows you to control the temperature level – including cool settings during summertime. With a dual temperature heat pump, you can keep your home cosy in the winter and cool and comfortable in the summer.
Air Conditioning systems are available for installation in both new builds and retrofits for residential and commercial buildings. The type and size of the air conditioner you will need is much like selecting a heat pump or heating system. It all depends on the size of the space you want to keep cool, as well as your lifestyle and the level of convenience you are wanting.
Selecting the right system for you
Whether you are looking for a heating or cooling system in one room, multiple or a solution for the whole home, Mitsubishi Electric have something suitable for you.
The right heat pump or air conditioning unit for your home will depend on many things such as,
How many windows are in your space
The total size as well as the layout of the room or house
How well your home is insulated
How often you will use your appliance
You can book a free no-obligation quote to discuss your requirements with our team of experts.
There are many different types of Mitsubishi Electric Air Conditioning units including:
Cost of running an air conditioning unit
Running an air conditioning unit correctly should only cost you as little as 0.25 cents per hour – depending on the model and setting you use. There are normally three types of settings you can use in your system to keep your home cool, dehumidifying, fan or 'cool mode'.
You can find out more about running costs here.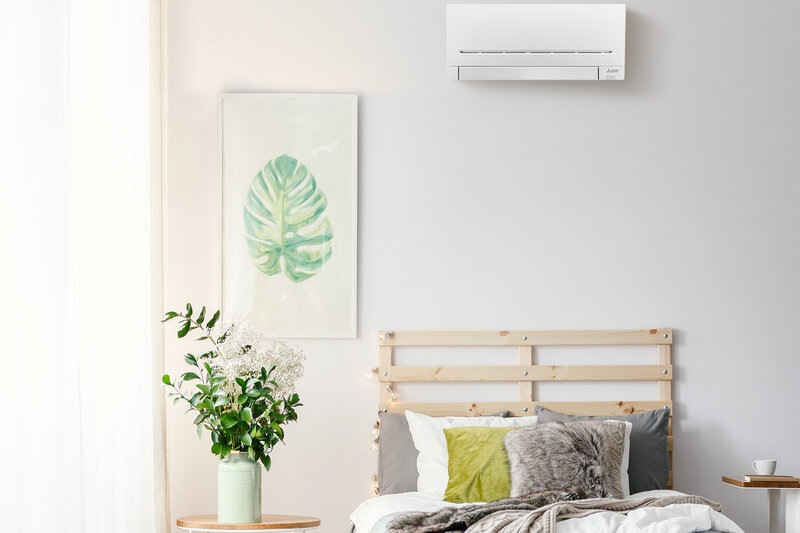 Benefits of an air conditioning system
Sometimes it can be hard to escape the heat of summer. Homes of any age and commercial premises can feel hot and uncomfortable in our warm New Zealand summers. Air conditioning is going to help you get a good night's rest and feel comfortable in your own home.
Comfort Air conditioning can help regulate the temperatures in your home keeping your family and your home comfortable
Healthy Air Mitsubishi Electric's advanced filtration systems will help you breathe easier with healthier air. Keeping out dust, pollens, and other common allergens.
Environment & Energy saving The right system will use less energy which is not just better for your energy bills but the environment too.
Cost-saving Running the air conditioning or 'cooling mode' through your heat pump is a cost-effective way to keep your home comfortable.
Dual efficiency Installing a heat pump will keep your home warm in winter and cool in the summer – or anywhere in between.
Mitsubishi Electric technology
Warmer weather can also mean more dust, pollen, and other allergens are in the air. Mitsubishi Electric systems have unique ground-breaking technologies that help filter out the bad air. Making sure your home has clean healthy air to breathe.
Mitsubishi Electric air conditioning systems have many unique technologies:
If you want to find out more about an air-conditioning unit in your home or have any questions at all get in touch with us now.
We have an awesome team of knowledgeable and friendly people who are more than happy to help you with your queries.