Commercial heating solutions have undoubtedly come a long way. Heat pumps are now the number one choice of heating and cooling in homes and commercial spaces across New Zealand, and it's no wonder due to their low running cost, superior technology and eco-friendly qualities.
Commercial heating systems are as much a feature in industrial factories and warehouses as they are in office buildings. Heat pump installations have become increasingly popular in a variety of commercial spaces, especially where large amounts of heat, dirt or dust are produced.
For every type of commercial building, large or small, there's a heating solution at Flocon that will suit all.
Different types of commercial heating solutions
There was a time when choosing a heat pump was simple, purely because there weren't many to choose from. But, now with the advancement of technology, there are many different heat pumps to choose from to suit your commercial heating needs.
Style, performance, and energy efficiency are the basis for heat pump innovations.
Depending on the typical weather conditions in your location, the size of your commercial space and your personal taste, Mitsubishi Electric has designed the right kind of heat pump for you.
We can help you to find the right one.
Floor consoles
More powerful than wall-mounted heat pumps, floor consoles are more suited to open planned rooms.
They fit neatly into cavities that have been left by removing a fireplace or night-store heater or sitting independently along with the décor.
Wall-mounted heat pumps
These are by far the most common heat pumps in Kiwi homes today.
They sit up high on your wall, saving floor space, but are still powerful enough to heat a large room.
Smaller models are more suited to children's rooms or studies, but the result is the same; easy comfort at your fingertips.
Multi-room heat pumps
Greater efficiency and flexibility allows the Multi Series to connect up to eight indoor units to one single outdoor unit, making them ideal for individual areas in your home or office space.
If your home or commercial space is large, this is what you want, with many individual rooms that need heating separately.
Central heating
When you want your whole home or commercial space to have a constant temperature throughout, the ducted central heat pump is the unbeatable and unobtrusive solution.
Fitted throughout the house, central heating is a cost-effective and convenient way to heat an entire home by using only one pump.
Commercial heat pumps for your business
Whether it's a commercial environment like retail premises or an industrial environment you require a commercial heating system for, we recommend Mitsubishi Electric commercial heat pumps.
Here are some of the reasons why.
Commercial heat pumps have whisper-quiet technology
Minimal noise is something Mitsubishi Electric has worked tirelessly to achieve, even in the largest commercial heat pumps. Mitsubishi Electric is renowned for its whisper-quiet technology so you can rest assured that your commercial heat pumps won't cause any further distraction in your workplace, unlike an outdated system that is known for its noise and distraction.
Environmentally friendly
Mitsubishi Electric is constantly looking to the future and their focus on energy efficiency makes them active participants in the efforts to fight climate change.
Businesses are becoming more environmentally friendly and are reducing their energy usage. Mitsubishi Electric has created the most energy-efficient form of commercial heating. Not only does this mean that commercial heat pumps have less impact on the environment, but they're also much more cost-effective to run than outdated heating methods.
Discreet designs
Mitsubishi Electric has covered all the bases when it comes to commercial heat pumps. Heating, cooling, ventilation and style are qualities every commercial space needs in a heating system. With these heating and air conditioning systems, you'll get a discreet and sleek design to blends in with your interior that won't look obvious, and outdated.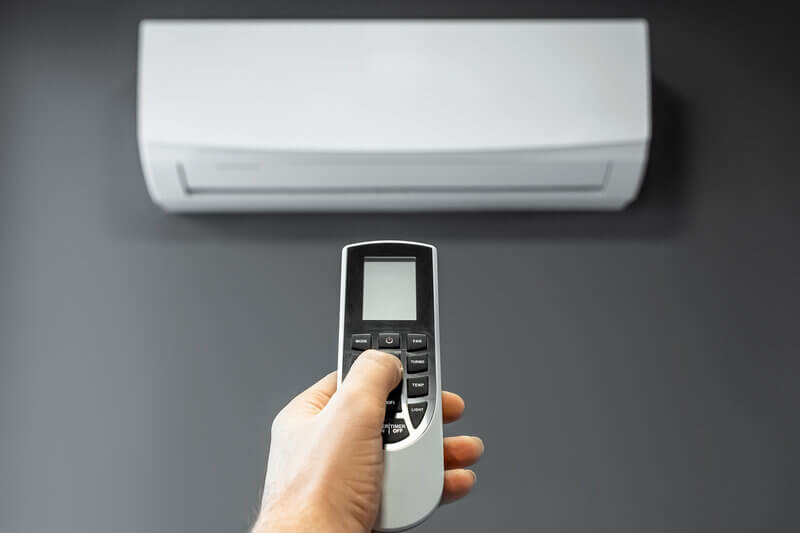 What should I look for when buying a heat pump?
Choosing the correct size heat pump is critical when purchasing a heat pump. Fortunately, you're not alone in making this decision, we have an expert team of technicians who can help you.
When selecting the right heat pump, we look at the size of the space you want to heat, the typical temperatures in your area and the condition of your home's insulation. You can start by using our easy heat pump calculator to find the right size for your needs.
However, there are some other important things that you will need to consider.
Look for the energy rating label. These are a good indication of how efficiently the appliance performs.
Think about aesthetics. If you are looking to match your home's interiors, consider a heat pump from Mitsubishi Electric's Black Diamond or Designer series.
What is the most reliable heat pump brand?
Our team have chosen to exclusively work with Mitsubishi Electric heating systems because we believe they are the best.
Mitsubishi Electric has a range of commercial systems that efficiently heat and cool commercial and industrial spaces. The large capacity gives commercial systems the ability to heat just as efficiently as any of the residential models.
Mitsubishi Electric has many different heating systems that are the perfect fit for any environment whether that's for your commercial space or home. Each system is designed to meet specific requirements – while not compromising on technology and high standards.
Mitsubishi Electric is simply the best brand when it comes to commercial heating solutions.
Before any heat pump is delivered to the consumer, it is rigorously tested to ensure its quality. As a result, Mitsubishi Electric heat pumps are durable, cost-effective, easy to maintain and have no issue working to optimum performance.
Get your commercial heating solutions with us
Choosing the right commercial or residential heat pump doesn't have to be complicated as heat pumps are our speciality.
We can help you decide on what the best heat pump is to install. We understand that everyone's needs are different and with customer satisfaction being the driving force for our ongoing success, you can be sure you are getting the best from our professional, experienced team.
Mitsubishi Electric commercial heating and air conditioning systems are discrete, energy-efficient and easy to use. Commercial spaces of all shapes and sizes should be taking advantage of the many benefits of heat pumps.
Get your commercial heating solutions sorted with us, a company you can trust.
If you're ready to invest in this modern heating solution, give us a call today and one of our experienced technicians can assess your commercial space for the perfect commercial heating solution.