Keeping on top of regular maintenance and heat pump cleaning will keep your heat pump running efficiently. Heat pumps are a great option for an energy-efficient heating and cooling system in your home or commercial space.  But not keeping on top of cleaning and regular maintenance can lead to reduced efficiency and other problems. 
There are a few things you can check yourself, like the filters or the area around your outdoor unit, but it's important to get your heat pump checked by a professional regularly too. Keeping on top of cleaning and maintenance for your heat pump has many benefits. Avoid getting caught out – find out how to keep your heat pump clean and maintained.
How to check if your heat pump needs cleaning? 
Here are a few signs you can keep an eye out for that will indicate whether your heat pump needs cleaning or servicing.
Your heat pump is not blowing as much air out through the vents

Not heating or cooling your space as quickly as it used to

Any odd musty smells or dampness
These signs are a good indication that your heat pump needs to be cleaned or serviced. 
Making a physical inspection of your heat pump unit regularly will indicate whether it's time for servicing or that you should get on to your heat pump cleaning.
Check the indoor unit vents – if you see any signs of dust, mould, or dirt then your heat pump needs to be cleaned.

Check the filters – filters work to keep out dirt, dust, and other contaminants. If your filters are dirty then they won't work at keeping your air clean. If you find that they are dirty, they will need to be cleaned or replaced with new ones.

Check the coils – sometimes these can be blocked with dust or dirt.

Inspect the outdoor unit- make sure that your outdoor unit is free from weeds, and other shrubs that may block airflow.
Check out this guide from Mitsubishi Electric about how to clean your heat pump filters or feel free to get in touch with us to book a service or maintenance check.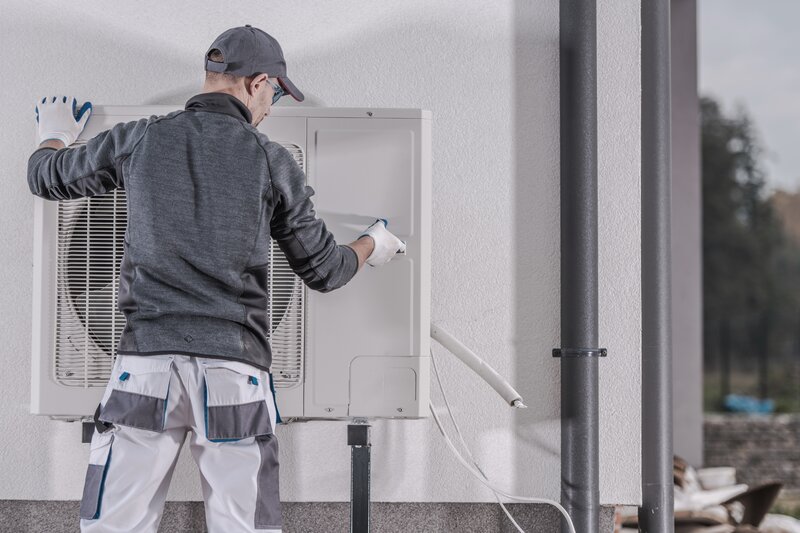 Why is it important to keep on top of heat pump cleaning and servicing?
Heat pumps are an investment you make for yourselves and your home. You want to get the most out of your heating system and make sure it lasts. Just like you service your cars you need to service our heat pumps and air conditioners too.
Lifespan – keeping your heat pump regularly serviced and clean will ensure it lasts a long time! That includes caring for the smaller parts and pieces that make up your heat pump. It is cheaper to maintain your heat pump than replace it.

Keep allergens out – make sure your air is kept fresh and clean by cleaning your filters regularly. Clean filters mean clean air!

Economical – when your heat pump is regularly serviced and maintained it works at its best. If there is an issue or problem with your heat pump it may be consuming more energy than it normally does. Keeping on top of maintenance work is going to save you money in the long run.
Cleaning your indoor unit
Keeping your indoor unit clean and free from dust and dirt will help keep ensure your heat pump is working at its optimal best. If you're not sure where to find your heat pump filters check out this video here.
You can clean the filters in your heat pump yourself, or hire a professional to do a maintenance check and service.
A professional service will have the correct equipment and knowledge and be able to complete a thorough check.
Cleaning your outdoor unit
Don't forget to check your outdoor units. Sometimes the overgrowth of weeds and plants can block the airflow. Having a professional service or maintenance check by a heat pump specialist will check inside the unit for any issues, or parts that may need cleaning or replacing.
Need help with heat pump cleaning and maintenance?
We are heat pump specialists with a proven track record of delivering exceptional heat pump services to many homes in the greater Auckland area.
We specialise in Mitsubishi Electric products because we know it is a trustworthy brand and top quality technology. 
Our team of professional heat pump specialists have in-depth knowledge about their wide range of heating and cooling systems.
You can book online or give us a call to find out more about our range of services and how we can help you.