Looking for a small heat pump or alternatives to larger ones? Have you discovered Mitsubishi Electric's small heat pump yet? 
And, did you know, they are New Zealand's smallest heat pumps?
A Mitsubishi Electric small heat pump is convenient and a great alternative to the common larger heat pumps.
You've also got some options with small heat pumps from Mitsubishi Electric. Find out more below.
Meet the EcoCore AP Mini-Series – small but mighty
The EcoCore AP Mini series is a smart and small heat pump system designed to fit in smaller spaces that wouldn't otherwise fit a standard heat pump.
The smallest in the series is 250mm high and 760mm wide, ideal for installing above doorways in bedrooms, home offices, and hallways.

While they may be small the EcoCore AP Mini has all the features and technology of larger heat pumps.
What technology does the EcoCore AP Mini Series have?
Washable Air Purifying Filter
One stand out feature is the Air Purifying Filter. This speciality filter traps particles such as dust, pollen, allergens, and other airborne contaminants. The filter also has antibacterial and deodorising effects, and can easily be washed by you to help keep your air clean. 
Horizontal, Wide, and Long Airflow
The EcoCore AP Series eliminates uncomfortable draughts with Horizontal Airflow in Cooling Mode, by first spreading airflow evenly across the ceiling. The Wide Airflow Mode is perfect for open-plan living. This setting enables airflow direction to be adjusted from left to right ensuring every area of a room is at a comfortable temperature. The Long Airflow Mode extends airflow distance to reach further. These modes can be simply activated by the touch of a button.
Blue Fin Condenser
The blue fin anti-corrosion treatment slows the corrosion process caused by salt and sulphur in the air and has been applied to the heat exchanger of the outdoor unit.
Wi-Fi Control – Never return to a cold home again
With the optional upgrade of Wi-Fi Control you can heat or cool a room no matter where you are in the world! On the way home, running late, coming home early, or even when you're in a different country, with Wi-Fi Control you'll always arrive home to total comfort. You can talk with your heat pump technician about having this feature added.
Wi-Fi Control is compatible when connected to an Amazon Alexa or Google Home smart device for voice control. 
Next Generation R32 EcoCore Technology
Is all about superior energy efficiency. It is achieved by incorporating a  high-density heat exchanger, an advanced high-efficiency fan motor, and a next-generation compressor.  And the latest in super-efficient R32 refrigerant.
Dual Barrier Coating Maximises Efficient Performance
The world's first Dual Barrier Coating from Mitsubishi Electric prevents dust and dirt. The special coating prevents build up from gathering on the inner surface of the indoor unit. Which helps your heat pump stay clean!
Night Mode
By selecting Night Mode, the brightness of lights on the heat pump are dimmed, beeping sounds are disabled, and the outdoor units sound drops by a further 3dBA. 
Quietness
With some clever thinking, the heat exchanger is minimised and air can now be moved across a larger fan surface.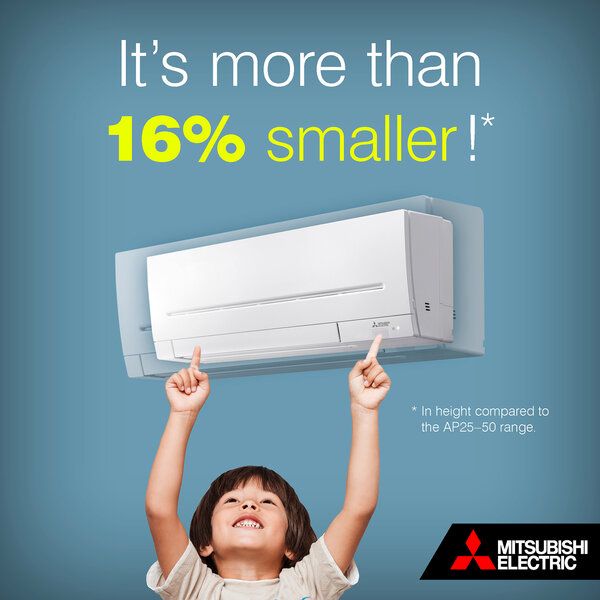 Other options for a small heat pump?
If you are interested in a small heat pump option that is not a high wall system, there is the option of a Mitsubishi Electric Floor Console.
Floor consoles are ideal for homes where wall space rates higher than floor space. 
A floor console can fit into a gap in the wall or be installed in a recess to sit flush with the wall.
A heat pump is installed on a wall surface but does not sit inside a recess.
Floor Consoles have a slimline frame and are packed with all of Mitsubishi Electric's great features and technology.
You can find out more about them here.
Looking for a small heat pump installer?
We service the Auckland region and pride ourselves on outstanding customer service – just read our reviews.
And we offer free no-obligation quotes!
We offer a range of heat pump services including installation, repairs, maintenance, and servicing with the Auckland region.
Give us a call to find out more today.