High wall air conditioner units are the ultimate way to keep your home cool this summer while being economic and energy-efficient. 
Have you been tossing up about getting a high wall air conditioner but not sure if it's right for you? We've gathered some of the top 4 myths circulating around high wall air conditioner units and rest assured we've got some answers to help make your decision easier!
Are high wall air conditioner units good at keeping your home cool?
There are many names for air conditioners these days and it can be a little confusing. A high wall air conditioner may also be called a high wall heat pump.
Both are essentially the same system – both heating and cooling your home when and where you need it.
You may have heard that a high wall air conditioner unit does not keep your home cool.
This is definitely a myth!
There are a few reasons why an air conditioner may not be keeping your home cool and the majority of the time:
the unit is not the right size or capacity for the space it is cooling or heating

blocked or dirty air filters can also mean the unit is not functioning properly and not cooling a room effectively. 
Getting professional advice about what type of model or system you need will ensure you are getting the correct one for your requirements – and you will avoid this problem altogether.
It is also very easy to clean your filters, and you can schedule a regular service for your high wall air conditioner just as you would service your car or other home appliances.
Air conditioner is too loud
We specifically choose to align our company with Mitsubishi Electric because they have New Zealand's quietest heat pump and air conditioner unit. 
Noise can affect your comfort and that is why Mitsubishi Electric uses advanced technology to make sure your heating or cooling system runs as quiet as possible. 
If you find your air conditioning is noisy it may be an easy fix such as cleaning filters, or that it simply just needs a service. 
Get professional advice if you are unsure or need help with your air conditioning unit.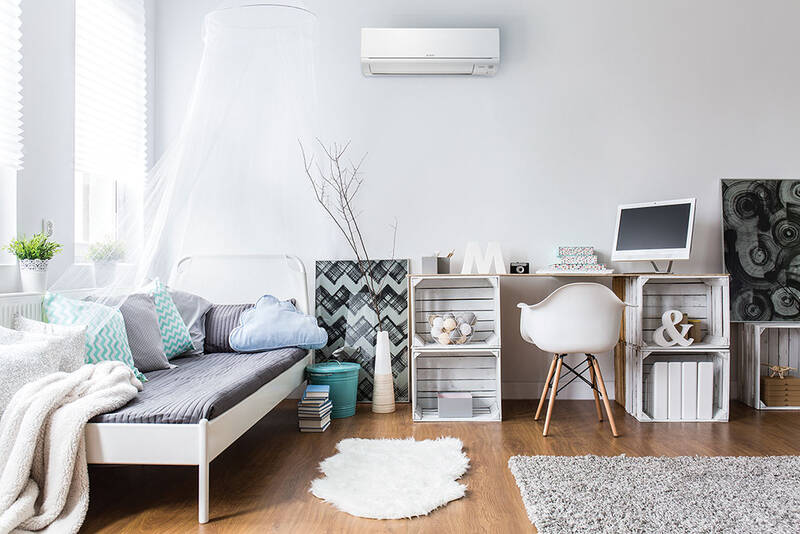 High wall air conditioner units are not energy efficient
Another myth!
High wall air conditioner units are energy efficient when used correctly. We've got some easy ways you can improve the amount of energy that your unit may use. 
Temperature setting
In summer our recommendation is to set your air conditioning temperature between 20-22 degrees. This is a good setting to stick to as it means your system doesn't have to work so hard to keep the air cool. 
Star rating
Another important factor in energy efficiency is the star rating and the new zoned energy ratings. The more stars – the more energy efficient – talk to a professional air conditioning installer about their recommendations. 
Check that the outside unit is clear
Check that plants, grass, weeds, debris, and other garden items aren't too close to the outside unit. You need a steady flow of air through the unit for it to perform to its maximum efficiency.
The outdoor unit does the majority of the hard work making sure cooler air is pumped to the indoor unit. It will help if your outdoor unit has some shade or is positioned in a cool area – as it won't have to work so hard to pump cool air into your home.
High wall air conditioner units cost lots of money
This is another myth depending of course on how you use your air conditioning. We've got plenty of tips to help you get the most out of your air conditioning this summer, see here to read more.
Running your air conditioner efficiently will help save you money. You can work out your costs for running a unit here. The cost may surprise you!
Running your air conditioner unit on fan mode will also help you save money and can cost as little as 5cents per hour!
There are certainly ways you can save money while also keeping your home comfortable and cool!
If you still have questions about installing an air conditioning system or heat pump in your home feel free to get in touch with us.
We have been in the heat pump and air conditioning industry for a long time! We have a team of friendly and experienced staff who can help you decide on the right system for your home. Our priority is our customers to ensure they get the best system for their space and needs.
We install air conditioner units across the Auckland region in residential, commercial, and industrial spaces.
Get in touch with us to book a free no-obligation quote or even to book a regular service so that you are ready to go this summer with cool air!