In this day and age, we are spoilt for choice when it comes to the different heating and cooling systems. If you are in the market to purchase a new heating system it's good to know your facts. With so many options on the market for heating and cooling systems, it's worthwhile knowing the differences between wall mounted heat pumps and ceiling mounted heat pumps, so you can make a good decision on what is the best one for your home. Regardless of the type of heating system, you choose it is a worthwhile investment.
We've created this guide to compare two common heating systems.
So what is the difference between ceiling-mounted heat pumps and wall-mounted heat pumps?
Let's find out.
What are ceiling-mounted heat pumps?
The ceiling mounted heat pumps or ceiling cassette system is a great choice if you want effective heating or cooling without compromising your wall or floor space. Rather than have a unit installed on a wall or floor surface you can have your heating and cooling system installed discretely inside your ceiling.
With ceiling-mounted heat pumps, you don't compromise on quality, efficiency, or comfort.
The Mitsubishi Electric range of ceiling mounted heat pumps offer flexibility for different home or commercial settings. Whether it's for a new home, older home, industrial or commercial space there is a system or 'cassette' that would fit perfectly.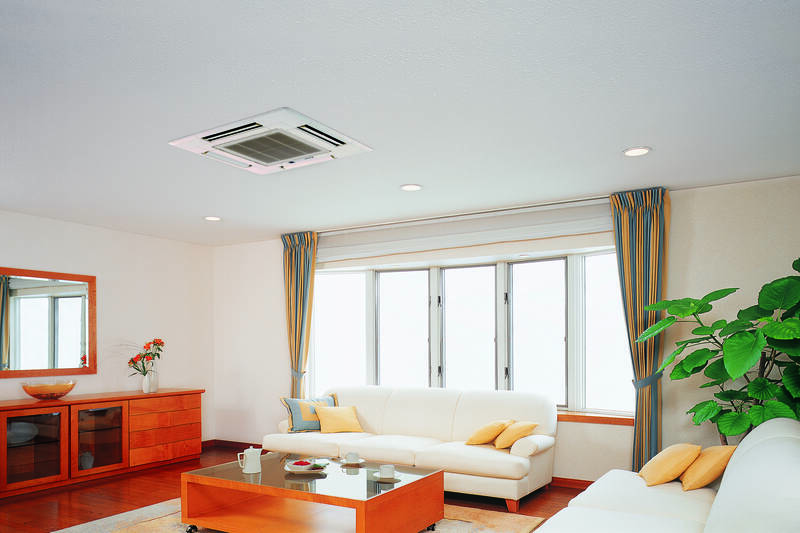 Benefits of a Mitsubishi Electric ceiling mounted heat pumps
Energy efficient

Flexibility

Direct warm or cold air to a whole room

Compact and unobtrusive

Great technological features

Perfect for large spaces

Air filtration features

Don't take up floor or wall space
What are wall mounted heat pumps?
A wall-mounted heat pump or high wall heat pump is a great low-cost solution, again for a wide range of areas and spaces.
Wall-mounted heat pumps are usually found in residential spaces and are one of the most popular types of heating system in New Zealand.
The main thing to consider with a wall-mounted option is the size or capacity it is capable of heating or cooling.
Wall mounted heat pumps are installed high on a wall surface, and multiple units can be installed in a home. 
At the touch of a button, you can set temperatures, timers, and much more. 
Mitsubishi Electric offers the Black Diamond Designer Series where you can customise your wall mounted heat pump to your home.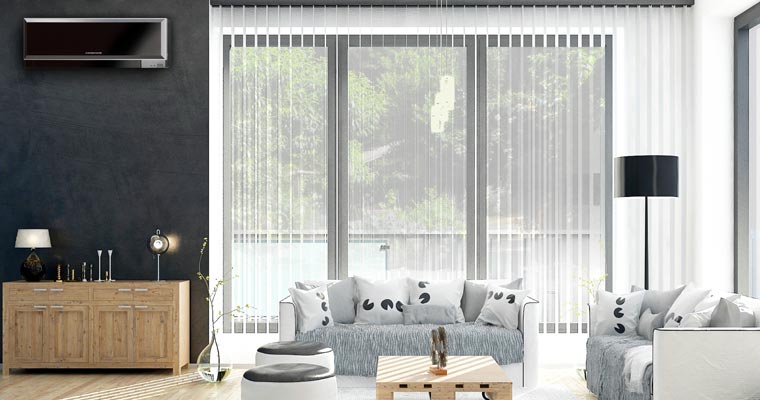 Benefits of a Mitsubishi Electric wall mounted heat pump
Low cost to install

Can install multiple units in one home

Wall-mounted heat pumps can be customised to the decor or style of your home

Energy efficient

Great technological features

Wi-Fi control

Heat a specific area within your home

Air filtration features

Easy to install

Don't take up floor space
Questions to ask yourself
It's not just about the type of mounted heat pump you want – but where you want it. Figuring this out will help you decide on the best system for your space.
Both wall-mounted and ceiling-mounted systems have benefits and one may suit your space better than the other. 
How much space do you want to save or need?

Aesthetics – do you want to be able to customise your system?

How many rooms do you need to heat or cool?

Placement – where would you like to have your system installed? In view or hidden from view?

Get advice from a professional
Tip #Always do your research and have a list of questions ready at your in home consultation. A good professional installer will be happy to help discuss your options and answer any questions you may have about the products.
The team at Flocon has specifically chosen to work with Mitsubishi Electric systems because of their quality and commitment to always providing the best technology possible. Mitsubishi Electric has an extensive range of solutions for heating or cooling or both for any space inside a home or commercial premises.
We install both wall-mounted heat pumps and ceiling heat pumps across the Auckland region in residential, commercial, and industrial spaces.
We have a very experienced team who are more than happy to help answer your questions.
Get in touch with us to book your free in-home consultation to get started on your heat pump journey now- just in time for the warm weather coming your way!