Heating can account for over 35% of your winter power bill, so it's no wonder kiwis are choosing cost-effective heating solutions like heat pumps to warm up their homes.
Winter is the time when everyone's electricity bill goes up whether you use a heat pump or not, by how much depends on many factors including lifestyle, size of the room, to the efficiency of the model you invest in.
There's nothing like relaxing on the couch in winter watching your favourite TV shows and sports games in a cosy warm room. But then again no one likes a high electricity bill either!
Although heat pumps are cost-effective to use, there are many ways to reduce the cost of a heat pump this winter.
We've put together some simple tips for you, so you can enjoy the toasty warmth of a heat pump without the guilt.
Tips for reducing the cost of running a heat pump
Look for the energy star rating
"Heat pumps are the most efficient way of using electricity to heat your home, but some are much more efficient than others. Look for the Energy Rating Label – the more stars, the more energy-efficient."  Energywise
The Energy Star rating helps to demonstrate your heat pump's efficiency. The lowest energy-efficient heat pumps available in New Zealand are 250% efficient (they give $2.50 heat for every $1 of electricity used). The most efficient models on the market are over 500% efficient.
ENERGY STAR® qualified heat pumps use up to 30% less energy compared to a non-qualified model. They may cost more upfront to purchase, but it could save you up to $150 each year on running costs which will ensure you get the best return for your investment.
Keep the temperature setting low
The best way to use a heat pump is to set the temperature low (18ºC or – 20ºC). Or when using the heating mode, between 22 oC and 24oC. Don't set your heat pump to the maximum as this won't heat the room any quicker, but it will use more energy.
Close doors and cover your windows
Letting as much sunlight in during the day as possible is great, but when the sun isn't shining its best to cover your windows and close your doors as these have a high level of thermal conductivity – meaning they'll allow all the heat out and your heat pump will have to work harder to maintain the temperature.
Utilise your floor space
Reducing the amount of space that your heat pump is trying to heat is one of the most effective ways to heat your home more efficiently. The less space your heat pump is trying to heat, the less amount of time it needs to run and the less energy it will consume.
Uncovered flooring, in particular, timber or tiles, can account for up to 10% of heating loss within your home. A great way to reduce your floor heating while adding a personal touch is by covering it with a rug!
Choose the correct sized model
Having the correct sized unit for your space and level of insulation is important. Too small and the heat pump will use more energy trying to keep the space warm.
Too large and it'll be less efficient as you'll have to keep switching the unit off to stop it from overheating.
Use the timer function
It's always best practice to turn off your heat pump when it's not in use. However, we all get busy with our lives and can forget. This is where the timer function that most split systems and ducted systems have. This will allow you to have more control! Be sure to activate the sleep timer when going to bed as this will stop your heat pump from running all night long.
Filter maintenance and serviced
Ensure you clean both your indoor and outdoor heat pump filter regularly – at least once a year. If the filter is dirty, your unit will be working overtime to take in sufficient air and in turn, use more energy than it should.
It's also important to have your unit serviced regularly to ensure it's running as efficiently as possible. A technician will be able to check the internal components as well as a range of other things to ensure your unit is running at optimal efficiency going into winter.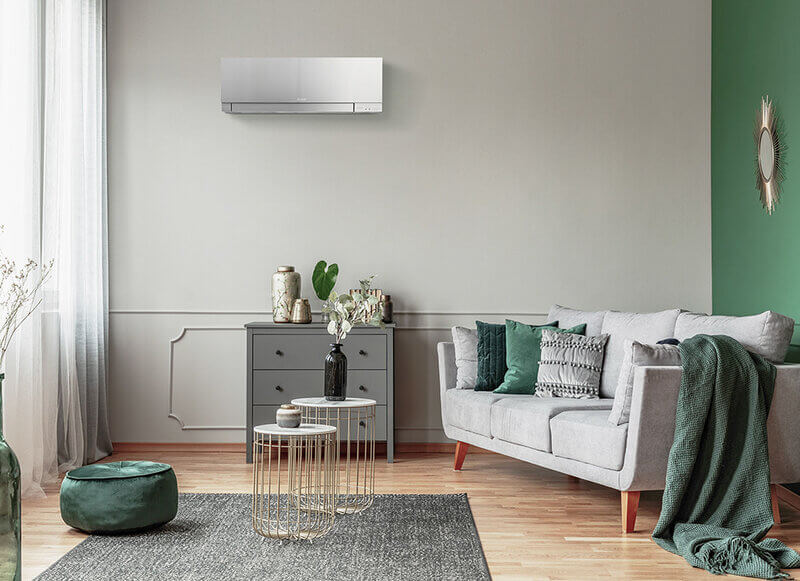 Want to know more about our heat pumps?
The cost of a heat pump doesn't have to break the bank and in fact many New Zealanders are now switching to heat pumps because they are cost-effective.
They'll not only help you reduce your heating costs but reduce your energy consumption which makes these versatile units eco-friendly.
Mitsubishi Electric has many different heating units that are the perfect fit for any home or commercial space. Each unit is designed to meet specific requirements while not compromising on technology and high standards.
Snuggle up this winter with a heat pump that will keep you toasty warm without the guilt of excessive electricity bills.
Let us help you choose the best heat pump for your custom needs and home. Give us a call today to find out more about the range of heating and cooling systems. Our expert team are happy to help!