Much like residential heat pumps, the Mitsubishi Electric commercial heat pumps offers many benefits. With the help of modern technology, these versatile systems are energy-efficient, cost-effective, convenient, and overall, the best choice for a healthy heating solution.
But with so many to choose from it can be overwhelming to know which commercial heat pump will serve your business the best.
Commercial and residential heating solutions are what we specialise in. If your business is in need of a commercial heat pump, Mitsubishi Electric's commercial heating and air conditioning systems could be the best option for you.
What is a commercial heat pump?
A heat pump is a mechanical-compression cycle refrigeration system that can be reversed to either heat or cool a specific space. A commercial heat pump will heat and cool large commercial and industrial spaces as many of these areas require special heating or cooling.
A heat pump uses mechanical energy to remove heat from the air and move it either inside or outside, depending on whether you want your space to be heated or cooled down with air conditioning.
In simple terms, you get a heater and an air conditioner all in one efficient unit. A commercial heat pump will provide all-year-round comfort to your business or office while saving you money in the process.
Heat pumps are energy-efficient and environmentally friendly as they don't need to burn any fossil fuels to produce heat.
Commercial heat pumps for your business
Whether it's a commercial environment like retail premises or an industrial environment you require a commercial heating system for, we recommend Mitsubishi Electric commercial heat pumps. Here are some of the reasons why:
Commercial heat pumps with whisper-quiet technology
Minimal noise is something Mitsubishi Electric has worked tirelessly to achieve, even in the largest commercial heat pumps. Mitsubishi Electric is renowned for its whisper-quiet technology so you can rest assured that your commercial heat pumps won't cause any further distraction in your workplace, unlike an outdated system that is known for its noise and distraction.
Environmentally friendly
Businesses are becoming more environmentally friendly and are reducing their energy usage. Mitsubishi Electric has created the most energy-efficient form of commercial heating. Not only does this mean that commercial heat pumps have less impact on the environment, but they're also much more cost-effective to run than outdated heating methods.
Discreet designs
Mitsubishi Electric has covered all the bases when it comes to commercial heat pumps. Heating, cooling, ventilation and style are qualities every commercial space needs in a heating system. With these heating and air conditioning systems, you'll get a discreet and sleek design to blends in with your interior that won't look obvious, and outdated.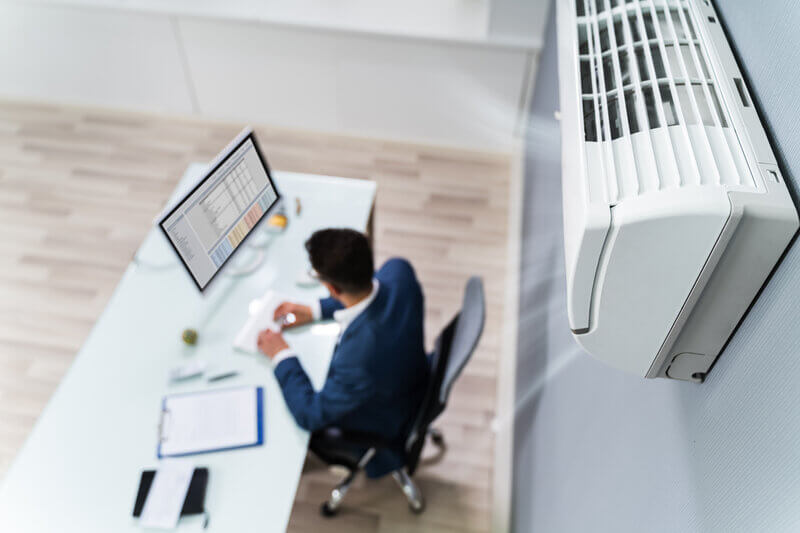 The commercial heat pump we recommend
Mitsubishi Electric has a dedicated system for commercial and industrial spaces. It's called the Hybrid City Multi heating system.
It's highly efficient in heating and cooling large complicated spaces, while still being energy efficient and offering the best technologies available on the market.
If you are in an industrial environment, such as food production, you need something with superior air filtration.
Why?
It will help keep your industrial premises safe, healthy, and clean. That's what makes the Hybrid City Multi heating system perfect for industrial and commercial spaces.
Read more here for more information on our commercial heat pumps!
Mitsubishi Electric heat pumps
Our team have chosen to install only Mitsubishi Electric heating systems because we know they are the best.
Mitsubishi Electric has a range of commercial systems that efficiently heat and cool commercial and industrial spaces. The large capacity gives commercial systems the ability to heat just as efficiently as any of the residential models.
Mitsubishi Electric has many different heating systems that are the perfect fit for any environment whether that's for your commercial space or home. Each system is designed to meet specific requirements – while not compromising on technology and high standards.
Like all Mitsubishi Electric heat pumps, commercial systems are products of tireless research, testing and are energy efficient. That's why we have chosen to align ourselves with the most trusted and leading brand in the industry.
We know from experience they provide years of trouble-free service and are backed up with excellent technical support. We cover the full range of their Residential and Commercial heat pumps and air conditioning units.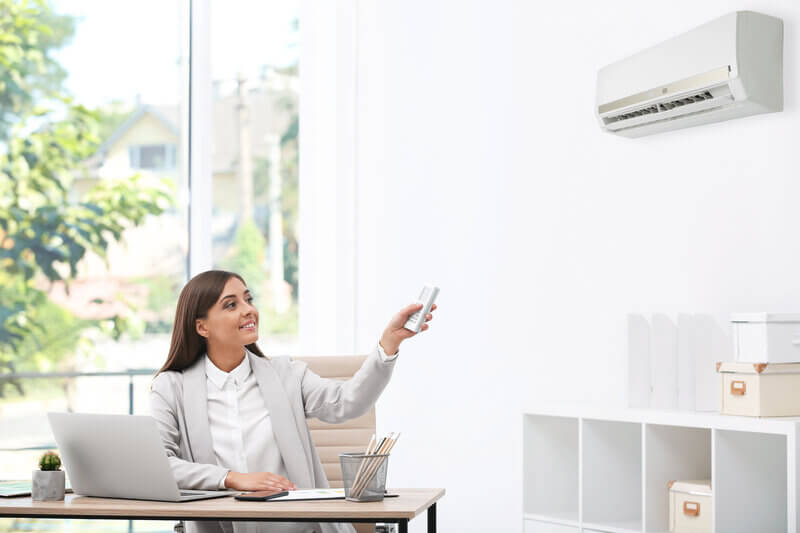 Talk to an expert that can help
Choosing the right commercial or residential heat pump doesn't have to be complicated as heat pumps are our speciality.
We are here to help you find a heat pump that is discreet, energy-efficient, easy to use, and cost-effective. Commercial spaces of all shapes and sizes should be taking advantage of the many benefits heat pumps have.
If you're ready to invest in this modern heating solution, give us a call today and one of our experienced technicians can assess your commercial space for the perfect commercial heat pump.