The best part about having a heating system installed in your home is the many options available that ensure you get one that perfectly fits your home. Nowadays you can even customise your heating systems to the interior style of your home. But, it can be mind-boggling trying to decide from all the different heating systems available, what one is right for you.
We all have different requirements based on the shapes, styles, and sizes of our homes and commercial buildings. Getting a heating system installed isn't a one size fits all endeavour. There are many different types of heating systems for our different needs– from floor consoles, high mount heat pumps to hidden cassette systems, and many more.
Rather than wading your way through the mountains of information out there about different heating systems – we've made a simple guide to run you through all your heating system options.
We 100% stand behind Mitsubishi Electric heat systems – we know they work and perform to an exceptionally high standard. So, our simple guide is based on the Mitsubishi Electric models we know and love.
Not only are Mitsubishi Electric heat pump systems at the top of air filtration technologies, quietness, and control but they are extremely energy efficient too.
High Wall Mounted Heat Pumps
These are the most popular option out of all the heating systems for New Zealand homes. They fit well within many different environments and lend themselves to both heating and cooling technologies. So you get an all in one solution – both an air conditioner and a heating system.
These models come in many different sizes, so you can ensure there is one just right for you home. A high wall mounted heat pump is as the name suggests, installed high on your wall so they are out of the way.
Once installed they are easily operated by a remote, and the G-series have the added benefit of being the quietest heat pumps in the country! There are many sub-models in the range from the very classy Black Diamond Series to the ultra-quiet G-series. Each of the sub-models share similar qualities, however, one may suit your home a little better than another – it depends entirely on you and your home.
The high wall mount heating systems, are suited to both residential and commercial buildings.
Multi-room Heat Pumps
A Multi-room heat pump system allows you more options and control over your home heating as you have the option to conveniently connect all your heat pumps to a single control system.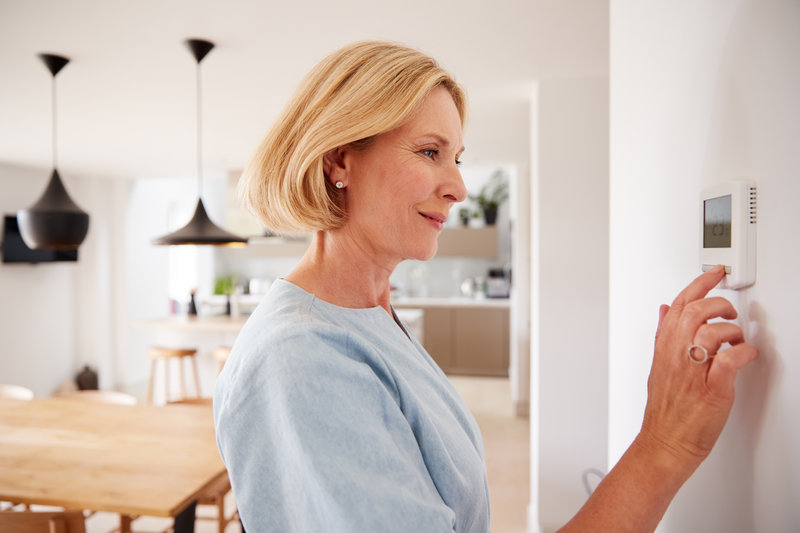 Heat pumps come in a range of sizes and models to suit different rooms and specifications. You can take the guesswork out of connecting this system in your home because a professional will know exactly what size, model, capacity, etc. will work best for you.
The best part is that all your heating is easily connected to one control giving you a better way to manage your heating or cooling. It's not only energy efficient but it means ease of use for you.
You can find out more about a multi-room heating system here.
Central Heating Systems
Central Heating is a combined heating and cooling system installed within the interior of your home that you don't see. If you want more control over the temperatures in different rooms then central heating is the type of system you would need in your home.
Central heating can be installed in both new homes and existing homes. The central heating system from Mitsubishi Electric gives you so many options for install – you can have it installed within your walls, ceiling floor, or a combination of the three. Each room may require a different kind of install. For example, in the bathroom, you would want underfloor installed and in the hallway, you may want a wall or ceiling installation – a professional can help you decide what will fit best.
Central heating is a great option if you want to hide your heating system from view as it is literally invisible. You won't ever need to worry about noise as Mitsubishi Electric heating systems pride themselves on ultra-quiet technology.
Floor Consoles
A floor console system is more like a traditional or standard heater, but the technology is definitely not. The floor console systems from Mitsubishi Electric heat your room twice as fast as standard floor heaters.
A floor console is an option for more flexibility within a home. If you have a vacant space say from an old fireplace, a floor console will tuck away nicely into the gap.
If you are wanting something you can move around or set permanently into a space, a floor console is an excellent choice. Another benefit of a floor console is that it can be incorporated into one heating system if you decide to upgrade your home heating later. Thank you, Mitsubishi Electric technology!
Ceiling Concealed Cassette Heat Pump
If making the most of your room and space is a priority then a concealed cassette heat pump would be an ideal choice. This heating system is fitted out for both commercial and residential spaces and different models suit different needs.
The bonus with these heating systems is that they are loaded up with all the latest in air filtration technologies. A ceiling concealed cassette heat pump is hidden away within the ceiling to utilise space within a room. Again, with whisper-quiet technology!
Commercial System
Whether it's a commercial environment like retail premises or an industrial environment you require a commercial heating system for, Mitsubishi Electric is your one-stop-shop.
You can rest assured knowing that all Mitsubishi Electric heating systems have been tried and tested for these complicated areas. Commercial and industrial spaces have many areas that require special heating or cooling.
Mitsubishi Electric has a dedicated system for commercial and industrial spaces. It's called the Hybrid City Multi heating system. It's highly efficient in heating and cooling large complicated spaces, while still being energy efficient and offering the best technologies available on the market.
If you are in an industrial environment, such as food production, you would want something with superior air filtration. Why? It will help keep your industrial premises safe, healthy, and clean. That's what the Hybrid City Multi heating system is perfect for industrial and commercial spaces.
In summary, Mitsubishi Electric has many different heating systems that are the perfect fit for any environment – home or commercial. Each system is designed to meet specific requirements – while not compromising on technology and high standards.
Our team only install Mitsubishi Electric heating systems because we know they are the best.

We collectively share more than 96 years of experience between us, which gives us the right to say… we know a lot about this industry. This is reflected in the high level of knowledge, skill and commitment we bring to every sale and installation.
If you want to talk more about different heating systems or want to understand more about your options then give us a call for a free no-obligation quote. We'd be more than happy to help. Our team is experienced, knowledgeable, friendly, and happy to help answer your heating system questions.