Winter is just around the corner which makes now a great time to start thinking about how you're going to heat your home before the wet and cold nights arrive.
Heat pumps are an effective way to heat your entire home or commercial space, but if you prefer to have more wall space than floor space, our RapidHeat Floor Consoles are an excellent alternative.
Our range of Floor Consoles provides you with the benefits that a high wall heating system offers. All you have to do is choose a model that suits you.
To make things easier we're recommending the Mitsubishi Electric RapidHeat Floor Console.
Let's find out why!
What is the difference between a floor console and a heat pump?
Floor consoles are installed on the floor, or lower areas of walls while high wall heat pumps are installed higher up on wall surfaces.
A floor console can fit into a gap in the wall or be installed in a recess to sit flush with the wall. A heat pump is installed on a wall surface but does not sit inside a recess.
Both are excellent heating and cooling systems that have great energy efficiency.
Introducing the Mitsubishi Electric RapidHeat Floor Console!
Heat your home twice as fast this winter with the help of advanced technology and Mitsubishi Electric RapidHeat Floor Console.
New Zealand's quietest floor consoles feature a contemporary slimline design and dramatically reduced depth. RapidHeat KW Floor Consoles are the perfect solution for unobtrusive heating at floor level.
New advanced sensors with Intuitive Control Logic Technology offer unparalleled low-temperature heating performance in the shortest amount of time, all while maintaining maximum energy efficiency.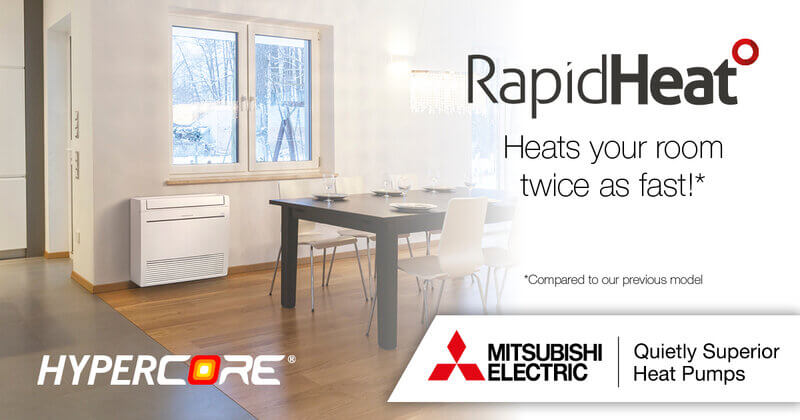 Why should you install a RapidHeat Floor Console?
NZ's Quietest Floor Consoles
Starting at barely a whisper, Mitsubishi Electric RapidHeat KW Floor Consoles are New Zealand's quietest floor console heat pumps starting from just 18dBA. This is achieved through the use of a larger fan scroll that not only enables the unit to be quieter but also increases its efficiency when heating your home.
RapidHeat Technology
Advanced sensors coupled with Intuitive Control Logic mean optimal running temperatures are reached in the shortest amount of time possible with maximum energy efficiency.
Automatically activated at start-up in low-temperature conditions when Two Way Airflow is selected, warm air is blown in a downward direction first before the air is returned back into the indoor unit where it is reheated a second time. As a result, a room can now be heated up to twice as fast compared to our previous model.
Sleek, Sophisticated Design
Mitsubishi Electric RapidHeat KW Floor Consoles feature a new contemporary design that can be recessed into your wall to dramatically reduce the depth of the indoor unit from 215mm to 145mm – a decrease of 33%.
With the addition of a removable base, it is the perfect solution offering compact, unobtrusive heating for new buildings, renovation projects and fireplace replacements.
Optional Wi-Fi Control
With optional Wi-Fi Control, you can pre-heat or cool a room no matter where you are. On the way home, running late, coming home early, or even when you're in a different country, with Wi-Fi Control you'll always arrive home to total comfort.
Wi-Fi Control is Amazon Alexa and Google Home enabled so you can take your comfort to the next level and enjoy hands-free heat pump control.
7-Day Programmable Controller
All RapidHeat KW Series Floor Consoles feature a built-in weekly timer, allowing you to program up to four times and temperature settings for each day of the week. You can now return to comfort without having to manually adjust the temperature.
Perfect for anyone with a busy lifestyle, the 7-Day Controller is a great way to regulate your energy usage without compromising on comfort.
Anti-Allergy Enzyme Filter
In addition to a washable Air Purifying Filter, the RapidHeat KW Series features an Anti-Allergy Enzyme Filter which utilises enzyme catalysts to filter allergens and remove harmful bacteria.
Optional HyperCore Technology
The RapidHeat KW Series Floor Consoles come with optional HyperCore Technology. While ordinary heat pumps produce less heat below 7°C, Mitsubishi Electric HyperCore Technology continues to deliver its full rated heating capacity right down to -15°C, so you stay warm when you need it most.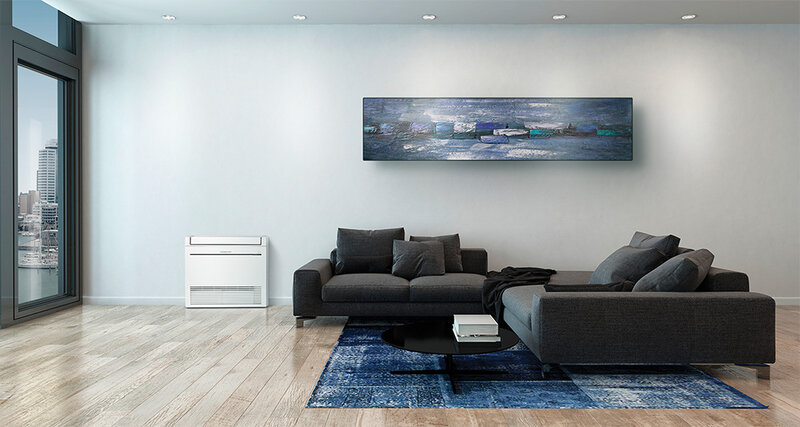 We are Mitsubishi Electric heating and cooling experts you can trust
The RapidHeat Floor Console Range are some of the most energy-efficient heat pumps available in New Zealand, that operate with advanced technology – making these models among the most economical in terms of potential yearly running costs in their capacity class.
If you are interested in finding out more about the exceptional range from Mitsubishi Electric including Floor Consoles, Residential and Commercial heat pumps and air conditioning units then get in touch with us.
Our highly qualified team offer a personalised service during every step of the process, and it's this dedication to customer service that is the key focus of our business.
Invest in the best with experts you can trust and prepare your home for winter today!