It's time to start the kiwi BBQs, prepare the ice buckets and entertain guests over summer.
There's nothing quite like enjoying a hot summer with family and friends, but with research showing that New Zealand summers are getting longer and hotter by the year – are you prepared?
Can't handle the heat?
Don't fancy sitting in front of a fan sweating all summer?
Then it might be time to find a cooling solution that can cool multiple rooms without buying multiple units.
The solution?
Introducing one of our most sought-after OmniCore multi-room heat pumps!
The OmniCore heat pump – perfect for summer
A Mitsubishi Electric OmniCore Multi Room heat pump system is the perfect choice for all your summer needs ensuring multiple rooms are at your ideal temperature at a click of a button.
This multi-room air conditioner allows you to choose the best heat pump for each room in just one OmniCore outdoor unit.
Whether it is a small capacity whisper quiet high wall for the bedroom, a compact floor console for the home office or a discreet ducted model for the lounge, there is a style and capacity to fit any room – the choice is truly yours no matter the size or interior aesthetic.
Can one heat pump outside heat multiple rooms inside?
The answer is yes!
Most people think that having air conditioners in multiple rooms means having multiple outdoor units too. With the Mitsubishi Electric OmniCore Multi-Room System – you only need one outdoor to heat or cool multiple rooms.
While a standard heat pump system consists of a single indoor and outdoor unit, an OmniCore Multi Room heat pump system allows you to connect multiple indoor units to a single outdoor unit.
This system not only gives you the freedom to select the indoor model best suited to each and every room in your home, but it also enhances exterior aesthetics by reducing the number of outdoor units required.
With OmniCore Multi-Room heat pumps, you have the freedom to choose the ideal unit for each area of your home, keeping you comfortable without cluttering the exterior.
Why our customers love their OmniCore heat pump system
Only one outdoor unit
latest Mitsubishi Electric heat pump technology
Choice of High Walls, Floor Consoles, or Cassettes
Superior efficiency and energy savings
From 1 to 8 room solutions
Whisper quiet
Optional Wi-Fi Control

Why choose an OmniCore Multi Room heat pump?
Individual temperature control for each room
OmniCore multi-room heat pumps allow individual control of every heat pump in your home, whether you want to increase the temperature in the kid's bedrooms before bedtime or turn off the living room heat pump as you head out for dinner.
With individual heat pump control, you can adjust the temperature to suit your comfort levels and ensure the heat pump only operates when needed, maximising energy savings.
Future-proof and add units as your family grows
With an OmniCore Multi-Room System, there is no need to hurry and choose all the possible indoor units for your home at once. Indoor units do not have to be connected all at the same time when you first install the system.
This means a four-room system could be installed with only two indoor units connected, allowing you to add up to two more rooms in the future – all connected to the one OmniCore outdoor unit.
Planning ahead means you don't end up with four large outdoor units cluttering your exterior, which would be the case with a standard single-room heat pump system.
Keep your exterior clutter-free
While a standard heat pump system requires a separate outdoor unit for every indoor unit inside the home – with OmniCore, you only need one. An OmniCore Multi Room heat pump system is specifically designed to connect multiple indoor units to just one outdoor unit.
With a range that provides sizing options from two to eight rooms, a total home heating and cooling solution with a clutter-free exterior is now possible.
Which Mitsubishi Electric heat pump can I use with the OmniCore Multi Room heat pump?
Most Mitsubishi Electric indoor heat pump units can be installed in your home as part of the Multi-Room system. You do not need to select all your indoor units from the same range.
You might like to have a mix of high wall mounted heat pumps and floor consoles. So long as the heat pump is compatible with the Multi-Room feature, you can choose what you like.
Here are the compatible Mitsubishi Electric range of indoor units:
High wall-mounted heat pumps
AP Series
Designer EF Series
Black Diamond LN Series
Floor consoles 
Ceiling cassette 
MLZ Series
SLZ Series
PLA Series
Ceiling suspended PCA series 
Total Home SEZ Series – ceiling concealed
Total Home SEZ Series – ceiling concealed
Total Home PEAD Series – ceiling concealed, ducted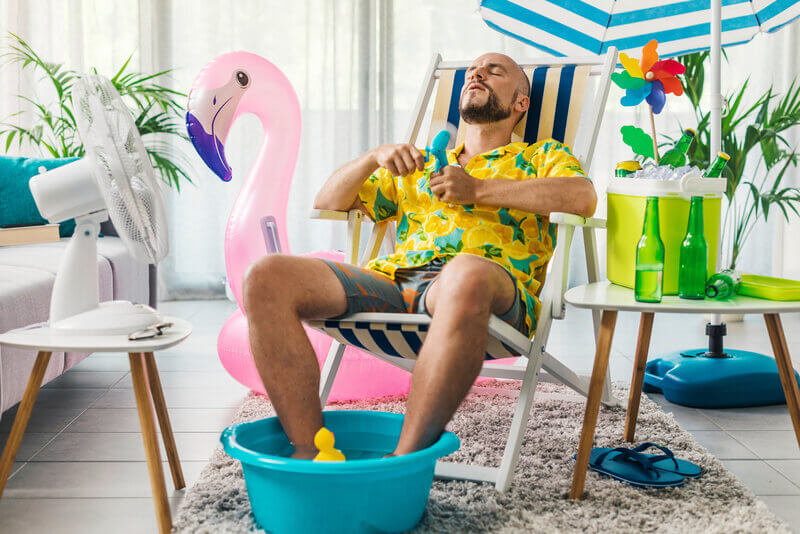 Beat the heat with an OmniCore Heat Pump
Why put up with scorching heat and humidity when you and your family can bask in the glory of cool crisp air in every room of your home?
Prepare your home or commercial space with the OmniCore Multi Room heat pump, and be confident you're investing in a superior brand you can trust.
Our Mitsubishi Electric range will add comfort to your home, save money, help the environment, and last the distance.
We offer a no-obligation quote that will ensure you are investing your money in the right place.
Cool down this summer with a Mitsubishi Electric OmniCore air conditioner, and call us today!