Heat pumps are the number one choice of heating and cooling in homes across New Zealand.
While the popularity of heat pumps is constantly growing, so are the many brands on offer that make it challenging for the consumer to decide what heat pump is right for you.
We are often asked who makes the best heat pump system.
Our answer is always Mitsubishi Electric.
Why?
Keep reading to find out!
What should I look for when buying a heat pump?
Every Kiwi family is different, and we all have different needs when it comes to choosing the best heat pump system. If you're a homeowner, choosing a quality heat pump will also enhance the value of your home.
But before you decide, choose a heat pump that's appropriate for your room size as it will operate much more efficiently. If it's oversized, it will waste energy, while an undersized model can struggle to maintain its temperatures, therefore wearing out the system a lot sooner.
When selecting the right heat pump, we look at the size of the space you want to heat, the typical temperatures in your area and the condition of your home's insulation. You can make a start by using our easy heat pump calculator to find the right size for your needs.
When deciding on the best heat pump system pay attention to the following:
Look for the energy rating label. These are a good indication of how efficiently the system performs
The heat pump functions and features, i.e., Wi-Fi smart device, sleep mode, noise control, etc
Think about aesthetics. If you are looking to match your home's interiors, consider a heat pump from Mitsubishi Electric's Black Diamond or Designer series.
Why we align ourselves with the best heat pump system?
We firmly believe that no brand can surpass Mitsubishi Electric. We are so firm on our dedication to Mitsubishi Electric that we choose to associate with them exclusively.
Mitsubishi Electric's technology and commitment to quality are what really sets the brand apart. You, the consumer, are the number one driver for all innovations and they are dedicated to bringing the highest quality, most energy-efficient heat pumps to the market.
Every Mitsubishi Electric heat pump is a product of thorough research and rigorous testing before it gets to the consumer. As a result, Mitsubishi Electric heat pumps are durable, cost-effective, quieter, easy to maintain and run at optimum performance.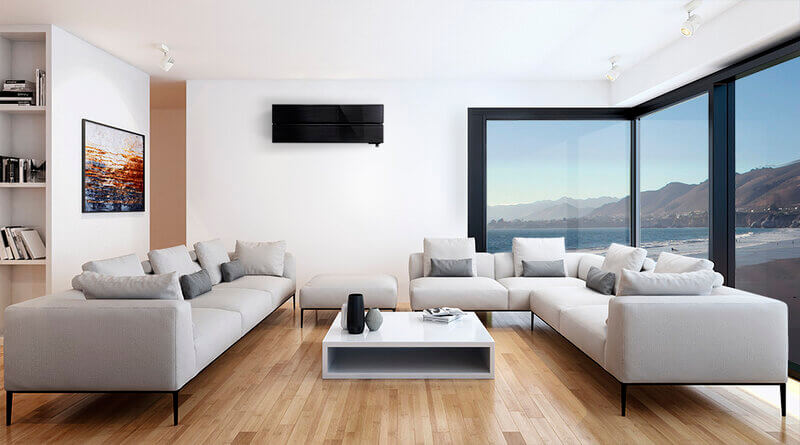 Our Mitsubishi Electric heat pump range
Do you need a residential heating system that is designed to heat your home?
Or a commercial heating system designed to heat environments like retail premises and industrial spaces?
Regardless of what your needs are, you can be confident that each system is designed to meet specific requirements – while not compromising on technology and high standards.
Whether you want a multi-room heating solution, a sleek design, a small heat pump or a heat pump that can be installed on a wall or on a floor – Mitsubishi Electric has a heat pump system for you.
High wall-mounted heat pumps
Floor console heat pumps
Ceiling-mounted heat pumps
Central heating ducted heat pump systems
Whole-home heating with multi-room heat pump systems
For more in-depth information on our residential and commercial heat pump range start here.
Why choose Mitsubishi Electric heat pumps?
Advanced Technology
Thanks to Mitsubishi Electric's advanced INVERTER-driven compressor technology, you can achieve consistent temperatures throughout your space while saving energy during both the summer and winter months.
Environmentally friendly and energy-efficient
Mitsubishi Electric uses ozone-friendly R-32 refrigerant and has zero Ozone Depletion Potential.
Not only is it better for the environment by consuming less electricity and power but it will save you money as they use up to 50%* less energy than conventional systems.
Whisper quiet technology
Want to keep your surroundings peaceful? Mitsubishi Electric's products are among the quietest heating and cooling systems you can buy!
Remote control options
There are a variety of controls to choose from to meet your needs. Whether you want hard-wired, wireless remote, or smart wireless controls, you can control your comfort in any way you choose.
Discreet designs
Mitsubishi Electric's heat pump systems come in a variety of discrete, stylish, and sleek options that can blend seamlessly with your existing décor.
Where to buy a Mitsubishi Electric heat pump
So, who makes the best heat pump system? Look no further than Mitsubishi Electric.
You can buy a heat pump from us, a trusted company that supply, install and service residential and commercial heat pumps and air conditioning systems from the top leading brand Mitsubishi Electric.
To ensure we get the right heat pump for your needs, we offer a no-obligation quote that covers all the various options to suit your home or commercial space so you can rest assured you're getting the best return for your investment.
If you would like to know more, then please don't hesitate to contact us today and one of our friendly advisors will be happy to have a chat about your unique needs.